5 essential foods in any Italian kitchen and recipes to cook just like nonna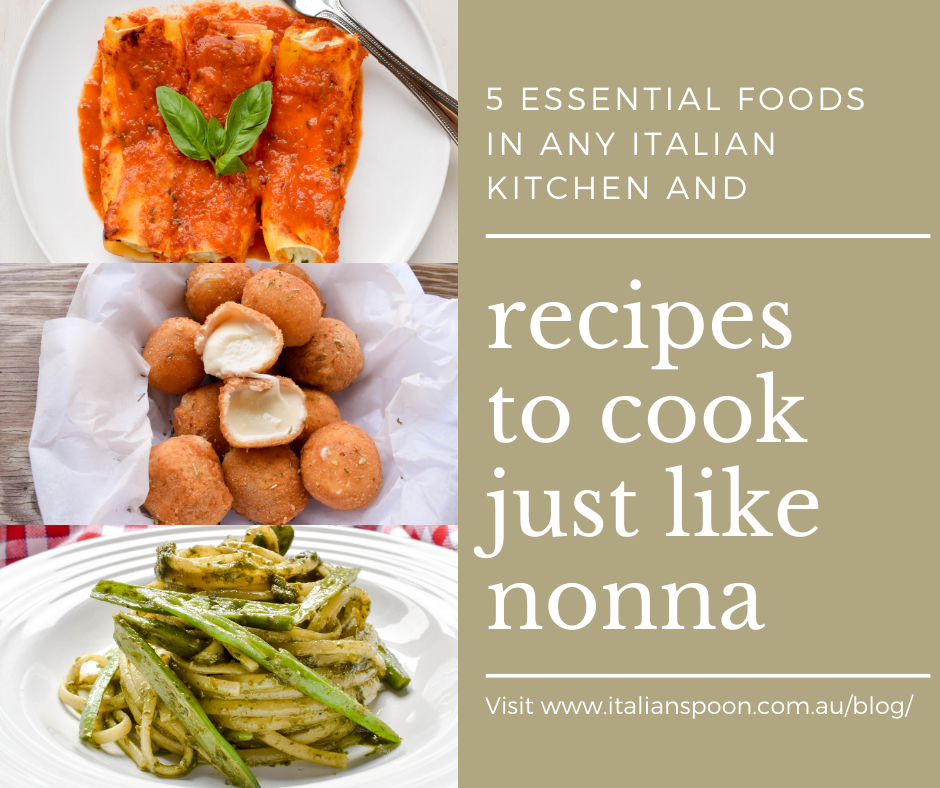 Just a heads up that we are a participant in the Amazon Services LLC Associates Program, an affiliate advertising program designed to provide a means for us to earn fees by linking to Amazon.com and affiliated sites.




It's May 2020 and we can't exactly jet off to Italy for an Italian meal or rely on our Italian nonnas great cooking to comfort us. That's okay, we have the next best thing. Read our blog to discover 5 essential foods in any Italian kitchen. With these ingredients at hand and our easy to follow recipes, you will be cooking like an Italian nonna in no time.
1.Pasta
What's the first thing that comes to mind when you think of Italian food? I am guessing it would be pasta and for very good reason – pasta is a staple of Italian cuisine. There are 4 pasta shapes that most Italians have in their pantry at any given time. Can you guess which ones they are? Spaghetti, penne, fusilli and rigatoni. We have the Italian classics such as Penne pasta 'al pomodoro' (with Italian tomato sauce), Pasta al forno (pasta bake), Pappardelle al ragù Bolognese style and Traditional meat lasagne.
Want to know more about cooking the perfect pasta dish? Read our blog What pasta shapes go with what sauce? Learn how to cook pasta like our Italian Nonnas.
2.Canned Tomatoes
One of the most versatile products to have in your pantry are canned tomatoes. Canned tomatoes serve as a fabulous base for pasta sauces. It is perfect for rustic, hearty dishes such as in casseroles, braises and soups. Did you know that you can use whole canned tomatoes to replace Passata by passing it through a food mill or blending in a food processor? It makes the perfect pizza sauce. I recommend using Omac stainless steel Food Mill Passatutto which is available to buy online from Amazon.
Use canned tomatoes to cook family favourites such as Pizza in teglia, Bucatini all'amatriciana, Chicken 'alla cacciatora' (hunter style) and Fussili pasta with salmon and baby prawns (shrimp).
Want to know more about cooking with canned tomatoes? Read our blog How to cook with Passata, canned tomatoes and tomato paste.
3.Extra virgin olive oil
Extra virgin olive oil, produced by pressing whole olives is a fundamental element of the Mediterranean diet. It is particularly rich in monounsaturated "healthy fat" that is full of antioxidants with consumption linked to living longer. Okay I am sold. For optimum flavour and health benefits, extra virgin olive oil is not only your go-to oil for salads, but great for conserving produce such as tuna and anchovies 'sotto olio' (under oil); to bind herbs and seasoning to roast vegetables; to marinate meat and to drizzle 'crudo' (raw) over pizza, pasta, soups, boiled and steamed vegetables.
When I think of extra virgin olive oil, I think of my father-in-law's 'pane cunzato' (meaning seasoned bread) which he often makes as a pre-lunch snack. It is made by slicing a warm ciabatta from the oven horizontally, then drizzling both cut sides with a generous amount of extra virgin olive oil and a sprinkling of salt, oregano and dried chilli flakes. You then close the pane cunzato and add the finishing touch by pressing it lightly to flatten a little. Grazie papa, è buonissimo!
Use extra virgin olive oil to make Italian classics such as Linguini pasta with Genovese pesto sauce, Spaghetti 'aglio, olio e peperoncino' (with garlic, olive oil and chilli) and my two favourite salads Insalata caprese and Fennel and blood orange salad.
4.Cheese
Cheese, made from curdled or cultured milk is one of the most versatile dairy products of all time. Lucky for us, supermarkets and delicatessens sell a wide variety of cheeses. Parmigiano, Pecorino, Provolone, Caciocavallo, Mozzarella, Gorgonzola – the list goes on and on. Who can resist digging into a beautiful antipasto platter at a party or family gathering? Not me and not without a well paired wine to compliment it, of course. A grating of freshly grated cheese over pasta or risotto and a gentle toss before serving compliments the flavours and really elevates your pasta or risotto to another level. Popular cheeses for grating over pasta include Parmigiano Reggiano, Grana Padano or Aged Pecorino. I should add that not all pastas are enriched with the addition of cheese, however. You may be surprised to hear this as there are people that sprinkle cheese on all pastas. As a general rule, pasta dishes that contain fish or seafood should not be served with a grating of cheese.
I am including Ricotta in my suggested recipes though I understand that is not a cheese, but by-product of the cheesemaking process. It is produced by heating the whey proteins left over from the production of cheeses such as mozzarella, provolone and haloumi. The curd is cooked twice, hence the name ricotta – we all love it and many people refer to it a cheese.
Our favourite recipes that are enhanced by cheese include Mozzarella fritta, Spaghetti with 'cacio e pepe' (cacio cheese and pepper), Ricotta and basil cannelloni and Pumpkin (squash), goat's cheese, pine nut and rocket salad.
5.Potatoes
Mashed, fried, boiled or baked – there is no wrong way to cook potatoes. They are a staple food in many parts of the world, Italy included. Of all the side dishes served at special occasion dinners, potatoes are a family favourite whether they are creamy mashed potatoes, crunchy roast potatoes or a potato salad.
Just a tip to store potatoes in a dark, cool place to keep fresh for longer. If you have a large sack of potatoes, increase the storage life by breaking them up into several small bags rather than in one large one to maximise ventilation. Bag up potatoes in sacks made of paper or hessian – you can also use baskets. Potato Recipe ideas include Potato gnocchi with oven roasted pumpkin and sage burnt butter sauce, Italian roasted potatoes, Sicilian polpette di patate (potato balls) and Frittata 'di patate' (of potatoes).
Organising your food essentials
Can you image walking into a pantry where everything is easily found and neatly organized? Some items can benefit from airtight storage contains such as, Wildone Set of 16 Dry Food Storage Containers. Your Sugar, Flour and Baking Supplies will never look as same, and it includes 20 Labels and 1 Marker. You might also like to pack your pasta packets and items such as onions and potatoes into baskets like HOSROOME Handmade Wicker Storage Baskets. Amazon sells them in a set of three and they are great for keeping pantry items organised.
Happy cooking X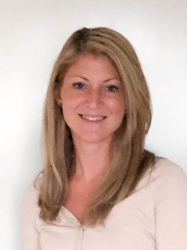 What is second best thing to being in beautiful Italy? Cooking and writing about Italian food, of course!

I live in Melbourne, Australia with my husband Simone and two children. They are my first love! Italian Spoon brings my second love for cooking Italian food and blogging to life and I am loving it!

I hope to inspire you to continue the tradition of Italian home cooking. Buon appetito!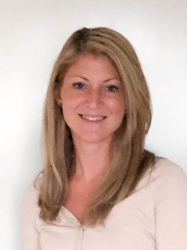 Latest posts by Vanessa Bottaro (see all)