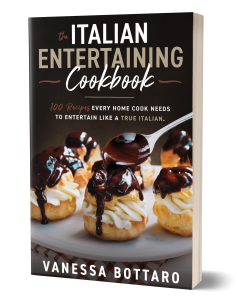 "If you have a kitchen, Italian spoon and The Italian Entertaining cookbook, you have everything you need to entertain with style."
Celebrations call for recipes that impress. It wouldn't be Christmas or Easter without recipes from The Italian Entertaining cookbook. Vanessa Bottaro's stunning new book provides traditional Italian recipes that are suitable for entertaining or everyday home cooking. With 100 recipes and countless cook's tips, this cookbook will have you planning a feast like a true Italian. It features a collection of Italian recipes that make it easy for home cooks.
Learn to cook pasta like an Italian nonna, make the perfect pasta al forno (pasta bake) and bake the best vegetable or meat-based lasagne. Go beyond throwing Italian cold meats, a few cheeses, olives and crackers onto a board and discover the makings for 'the ultimate antipasto platter'. Vanessa has the best recipes to impress guests with a showstopping seafood starter or main dish. Poultry and meat lovers are in for something special with the best ever recipes and cook's tips on how to make the perfect roast and the juiciest meatballs. Alongside chapters to make the best pasta, seafood, poultry and meat dishes, this book has the best ever soup recipes and exciting sides and salads. This book would not be complete without the chapter on a showcase of delicious Italian desserts and biscuits. Vanessa is the dessert queen and the recipes in this cookbook will have you ending on a high note.
You'll definitely want to use the tips in the book for planning your next Italian feast, but you can put them to good use for meals the rest of the year as well. The Italian entertaining cookbook has everything you need to leave a lasting impression on guests and make your celebration a success.
About the Author
Blogger turned book author, Vanessa Bottaro shares her love for entertaining in The Italian Entertaining cookbook.Her food exemplifies simplistic home cooking of real Italian food passed down for generations. It also stems from the modernisation that comes with Vanessa's passion for experimenting and refining recipes.
As an entrepreneur and Creative Director, Vanessa determines the creative vision for the Italian Spoon website. In addition to cooking and taking photographs, Vanessa writes the recipes and blogs. She is so grateful to have the opportunity to share her love of Italian cooking with the world!
Vanessa is wife to husband Simone and the mother of two beautiful kids Dante and Mia. She hopes to inspire many more people to instil the tradition of old-world Italian home cooking traditions into everyday modern lives.
Order the Paperback or Kindle Version of The Italian Entertaining cookbook today!
Amazon (Australia)
Amazon (US)
Amazon (UK)
Amazon (Canada)
Amazon (Italy)
Also available on Amazon.de, Amazon.fr, Amazon.es, Amazon.co.jp and Amazon.nl.