How to cook with Passata, canned tomatoes and tomato paste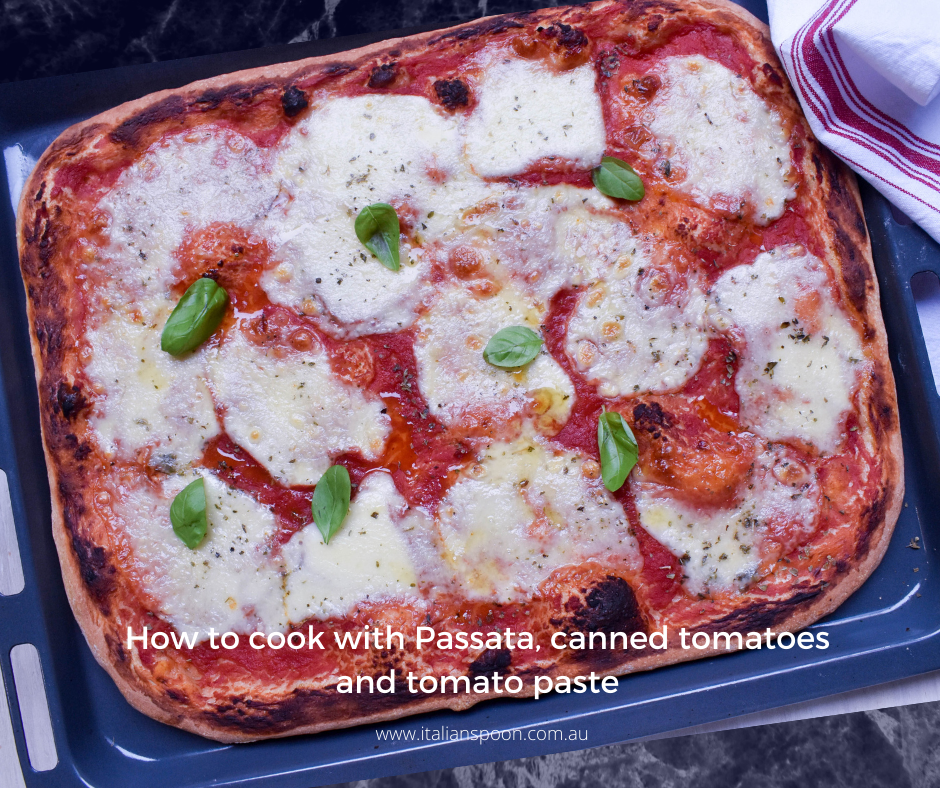 Have you ever been to Italy in summer and tasted the perfectly sun ripened tomatoes or grown your own in the garden?
I ♥ tomatoes! In Australia, as with many other countries, salad tomatoes are available all year round. Using flavoursome tomatoes in recipes, however, is limited to the summer months which is only 25 percent of the year. There is an alternative for the other 75 percent of the year when fresh and flavoursome tomatoes are not in season. You can cook with passata, canned tomatoes and tomato paste, some of the most loved and consumed food products by Italians. These are three ingredients I have in the pantry all year round. Why? They are the base for so many delicious Italian meals from traditional soups to pasta and hearty main dishes. We'll share how to cook with these three tomato-based products and our favourite recipes to use them up.
How to use Passata
Passata is made from fresh ripe (generally uncooked) tomatoes which have been puréed and sieved with a smooth, pourable consistency. I use Passata for cooking thicker, more intense tomato flavoured sauces such as Bolognese. It also makes a great addition to soups and can also be used straight from the bottle to create a pizza sauce base. When cooking with Passata, I make sure I get absolutely all of it out of the jar. For example, after I have poured the Passata into the saucepan to make a sauce, I add water into the jar, give it a shake and pour it into the saucepan. This way I use up every bit of Passata from the jar. Additionally, by adding water to the sauce, it allows me to cook the Passata for longer and get even more lovely flavour into the dish. Here are some common questions about Passata:
Can Passata be used instead of Tomato Puree? Absolutely, you can substitute Passata for Tomato Puree (Italian tomato sauce) which is essentially a cooked version of Passata with a few added flavours like basil. You can also substitute Passata for whole peeled tomatoes that are sieved through a food mill which happens to be my favourite pizza sauce base.
Can Passata be used instead of canned tomatoes? Most certainly, Passata can be used in any recipe that calls for tomatoes and where you don't need pieces of tomato.
How long will Passata keep in the fridge? Once opened, you can generally keep jars of passata in the fridge to use within 5 days however to be sure, refer to the instructions on the jar.
Passata – where to buy? Italian Passata brands Mutti and Le conserve della nonna are some of the nicest passata products available. They are a symbol of quality, made in Italy but available to purchase worldwide. You'll even find Mutti available online.  Buy Mutti from Amazon.
Just a heads up that we are a participant in the Amazon Services LLC Associates Program, an affiliate advertising program designed to provide a means for us to earn fees by linking to Amazon.com and affiliated sites.
How to cook with canned tomatoes
One of the most versatile products to have in your pantry are canned tomatoes. I love cooking with canned tomatoes which are made from ripened tomatoes. Canned tomatoes are available in several different forms. Two kinds that I recommend you always have on hand are:
1) Whole peeled, also known as plum tomatoes, and
2) Finely chopped or diced.
Whole peeled tomatoes are pretty much what they say they are, whole peeled tomatoes packed in tomatoes juice with citric acid. You can use whole tomatoes to replace Passata by passing it through a food mill or blending in a food processor. Whole tomatoes can also substitute chopped tomatoes by chopping them up. Diced tomatoes are ripe tomatoes that have been finely chopped and packed with tomato juice and citric acid (sometimes with salt). These are your go-to product for thicker and chunkier sauces where you want chunks of tomato after cooking. It is perfect for rustic, hearty dishes such as in casseroles and chunky pasta sauces, braises and soups.
Which canned tomatoes are best? Be sure to buy high-quality tomatoes for optimum results. Want to know what brands we recommend? The whole peeled or diced tomatoes that I use are Annalisa and Mutti.
Which canned tomatoes are sweetest? I particularly love the sweet Annalisa San Marzano whole peeled tomatoes. San Marzano tomatoes are grown in Agro Nocerino Sarnese, Province of Salerno, Campania (southern Italy) and are known worldwide for their sweet and juicy tomatoes.
How long will left-over canned tomatoes last in the fridge? Once opened, I transfer left-over cans of diced or whole peeled tomatoes to a container before placing in the fridge. I recommend to use within 5 days however to be sure, refer to instructions on the jar.
How to cook with tomato paste
Tomato paste, also known as tomato purée or concentrate, is mostly sold in small cans. It is made by cooking ripe tomatoes at a high temperature for several hours to reduce. The cooked tomatoes are then strained and once again cooked to create a thick, rich concentrated tomato paste. Just to give you an idea of how concentrated it is, 5-6kg of tomatoes are required to make just 1kg of tomato paste.
Tomato paste is used to thicken sauces such as Bolognese and adds richness to dishes such as soups and stews. There is a tip to get more intense flavour out of your tomato paste. It is about the timing of the addition of tomato paste. Once you have added the 'soffritto' (made by heating olive oil in a saucepan and cooking onions, carrots, and celery), the base flavour for most sauces, soups and stews, this is the time to add the tomato paste together with aromatic ingredients before adding liquid ingredients. This allows the tomato paste to caramelize and allow full flavour to develop.

It is rare to use the whole can of tomato paste in a recipe, unless you are cooking a large portion of course, but otherwise, don't waste it! Place the unused tomato paste into a small air-tight container and store in the fridge to use within 5 days or freeze as below. Some common questions about tomato paste are:
Will tomato paste thicken sauce? Absolutely, tomato paste adds body and with thicken pasta sauce, stews, casseroles and more.
Will tomato paste work for pizza? We all agree that pizza and tomatoes are a perfect match but which type of tomato is ideal for pizza? When it comes to pizza, choosing tomatoes that are treated as little as possible without altering the sensory experience is best. What am I saying? For pizza, skip the tomato paste altogether and choose a quality peeled tomato such as San Marzano that has been strained through a food mill.
Which tomato paste is best? Be sure to buy high-quality tomato paste for optimum results. I recommend Annalisa and Mutti. Use our recommendations as a guide however buy whatever you can get your hands on!
Can tomato paste be frozen? Yes, tomato paste can be stored in 1-2 tablespoon portions in snap lock bags in the freezer for up to 9 months. To defrost, simply lower the snap lock bag with tomato paste into warm water.
Tools for Tomato Products
I love cooking with tomatoes. For this reason, my food mill is an essential piece of kitchen equipment. A food mill (also known as passatutto, passa salsa, purée sieve, moulinette, mouli légumes, or passe-vite) is a used for mashing and sieving foods like tomatoes. It works by separating the tomato seeds and skin from the purée of the cooked tomatoes. The function of a food mill is in between a sieve and a food processor. Where do you buy a food mill? I recommend using Omac stainless steel Food Mill Passatutto which is available to buy online from Amazon.

Top tomato recipes
With a few jars of Passata or canned tomatoes/paste in your pantry, you'll always have the tools to create a hearty and nutritious meal. Why not make pizza from scratch? You could even get your partner and/or kids involved which will make your home-cooked meal just that little bit more special for the family. They'll love it! If you are looking for ideas to transform a can of tomatoes or jar of Passata, you've picked the right blog. Get your can opener ready! Here are our top tomato recipes to use up:
Passata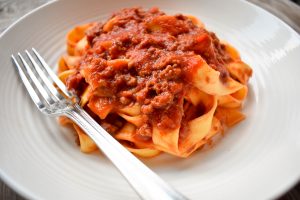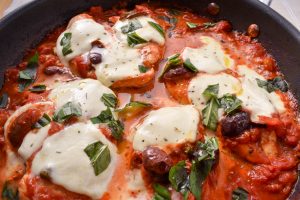 1. Pappardelle al ragù Bolognese style
2. Chicken alla pizzaiola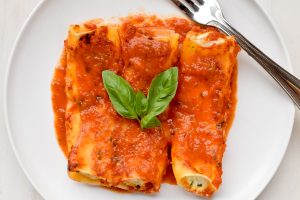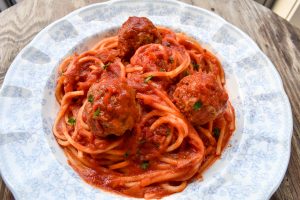 3. Ricotta and basil cannelloni
4. Spaghetti pasta with meatballs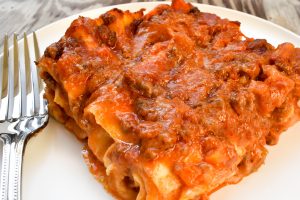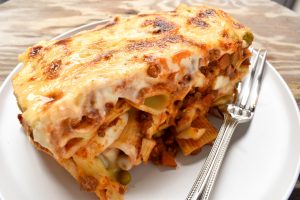 5. Traditional meat lasagne
6. Pasta al forno (pasta bake)
Canned Tomatoes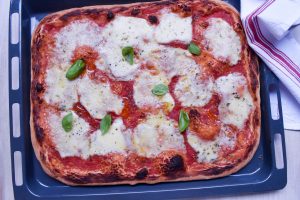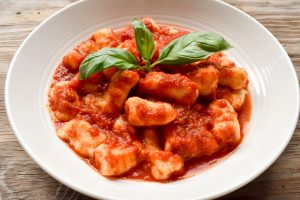 1. Easy homemade pizza in teglia
2. Potato gnocchi with tomato and basil sauce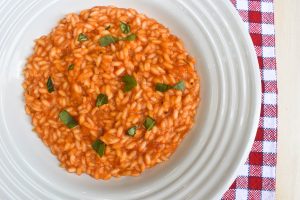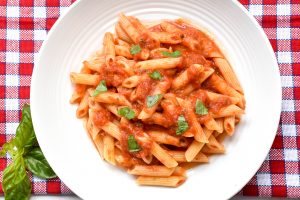 3. Tomato Risotto
4. Penne pasta 'al pomodoro' (with Italian tomato sauce)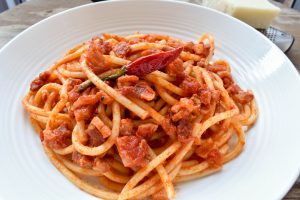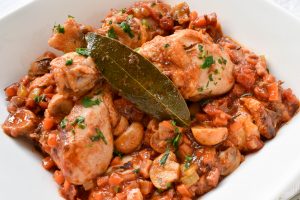 5. Bucatini all'amatriciana
6. Chicken 'alla cacciatora' (hunter style)
Tomato Paste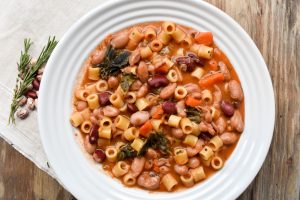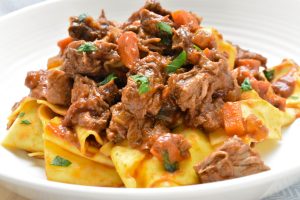 1. Pasta 'e fagioli' (with beans)
2. Pappardelle pasta with slow-cooked beef and porcini ragù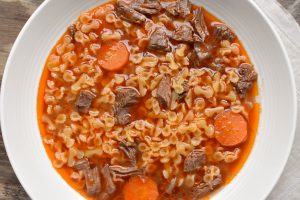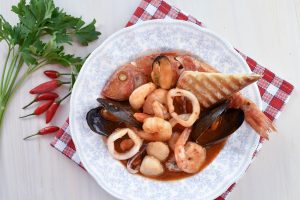 3. Brodo di carne (beef soup) with farfalline pasta
4. Cacciucco alla livornese (Livorno-style fish
stew)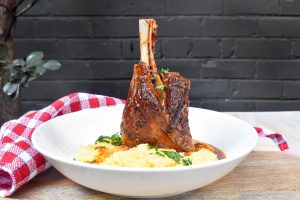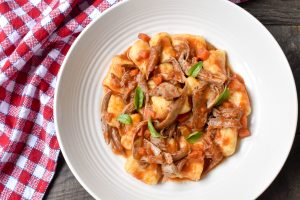 5. Lamb shanks with parmesan polenta
6. Potato gnocchi with duck and porcini ragu'
Want to know more? Read our fortnightly blog at https://www.italianspoon.com.au/blog/. For more cooking ideas visit www.italianspoon.com.au.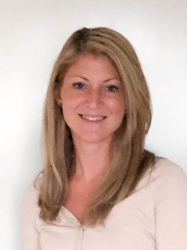 The only thing better than being in beautiful Italy is cooking and writing about Italian food!

I live in Melbourne, Australia with my husband Simone and two children. They are my first love! Italian Spoon brings my second love for cooking Italian food and blogging to life and I am loving it!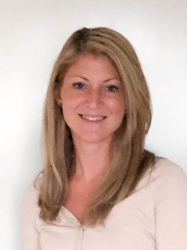 Latest posts by Vanessa Bottaro (see all)