What pasta shapes go with what sauce? Learn how to cook pasta like our Italian Nonnas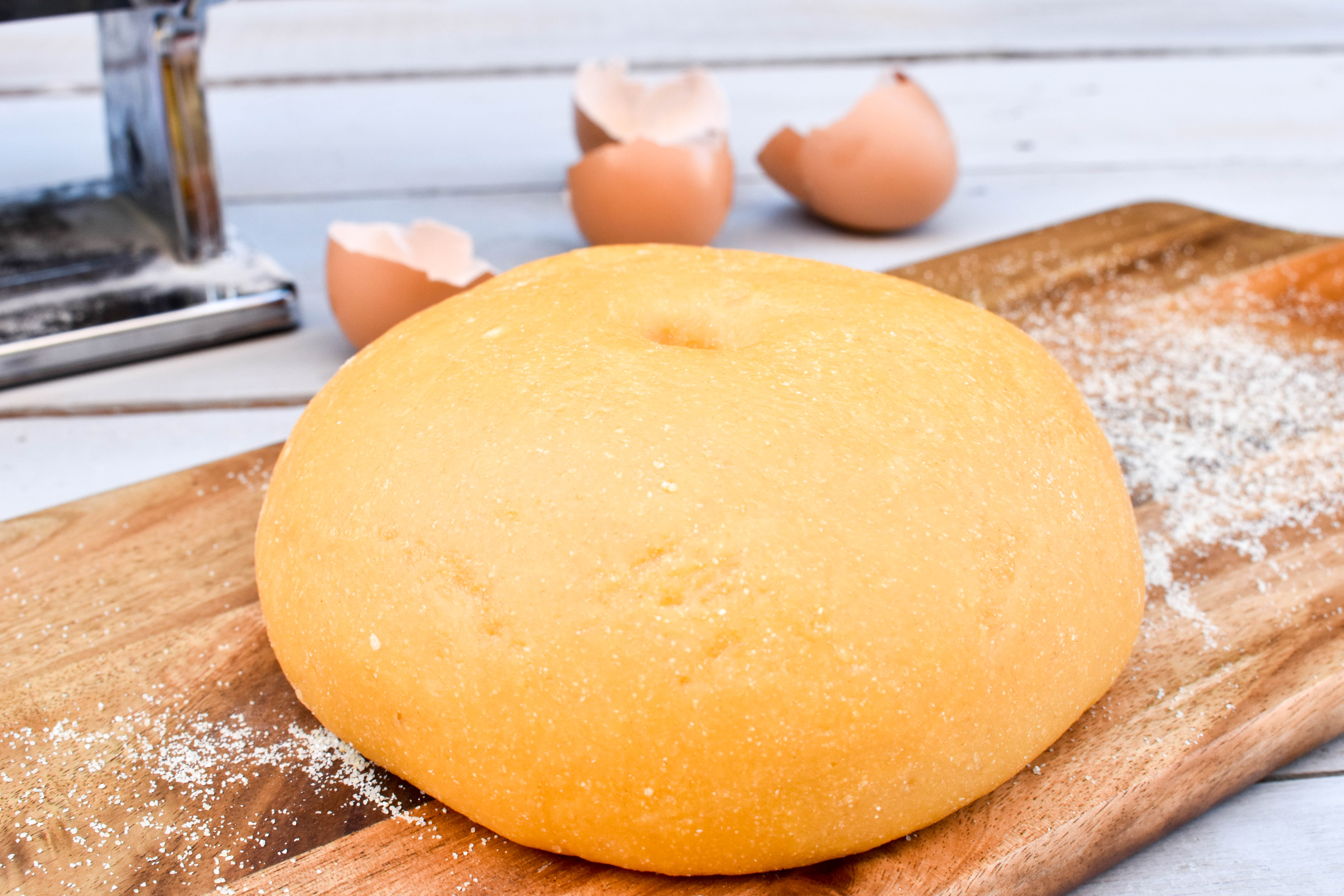 Do you love pasta as much as we do?
Are you looking for the best way to cook pasta? Have you been wondering what are different pasta shapes used for? Read this blog post and learn what pasta shapes go with what sauce. We have all of Nonna's secrets to cook the perfect pasta dish and can't wait to share them!
What's the first thing that comes to mind when you think of Italian food? I am guessing it would be pasta and for very good reason – pasta is a staple of Italian cuisine. Pasta was believed to have originated in Sicilia (Sicily), in 1154. When it comes to pasta, Italy is the largest producer and consumer. Italians consume an average of 26 kilograms of pasta per person each year with more than 60% consuming pasta daily. This is six times the average consumption in Australia and five times the consumption of pasta in the world.
Why do we love pasta so much? Pasta is very versatile – it can be served as an entrée before a main course, in soups, as a main course on its own or served as a salad.
Did you know that there are over 300 different 'formati di pasta' (pasta shapes)? Spaghetti, penne, fusilli – 'pasta fresca all'uovo' (fresh egg pasta) or 'pasta secca' (dried pasta), 'liscia' (smooth) or 'rigata' (grooved) – the list goes on and on. You may be thinking how do you choose the most suitable pasta shape with over 300 to choose from? It is not an easy task and choosing the right pasta does make a big difference. There are 4 pasta shapes that most Italians have in their pantry at any given time. Can you guess which ones they are? Spaghetti, penne, fusilli and rigatoni.
What pasta shapes go with what sauce?
Pasta is typically made using a combination of flour, eggs and salt before being formed into sheets or various shapes, all with regional variations. Refer to our recipe of Fresh egg pasta for instructions to make a beautiful, silky pasta.
Which pasta shapes are best? It depends on the dish, pasta sauce and ingredients. Here is a guide to the main pasta shapes: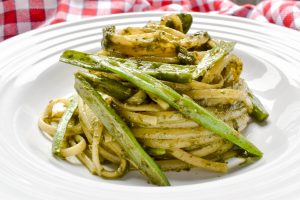 Paste Lunghe
Long pasta such as spaghetti, linguini and bucatini – the most versatile pasta shape and a family favourite with salsa di pomodoro (Italian tomato sauce). Spaghetti, in particular, is the most popular pasta sold in Italy making up almost 15% of pasta sales. Long pasta is perfect for dishes such as Spaghetti 'aglio, olio e peperoncino' (with garlic, olive oil and chilli), Linguini pasta with Genovese pesto sauce, The real spaghetti carbonara and Spaghetti with 'cacio e pepe' (cacio cheese and pepper)
Paste corte
Short pasta such as penne, rigatoni, farfalle (bow ties), fusilli, trofie, casarecce, garganelli and maccheroni) – ideal for pastas with vegetables such as Rigatoni pasta alla norma, Fusilli pasta 'con pomodorini e basilico' (with cherry tomatoes and basil) and Garganelli pasta with pumpkin and sage. It is also great with meat and seafood – e.g. Rigatoni pasta with Italian sausage ragù, ideal for Pasta al forno (pasta bake) dishes and pasta salads
Paste piatte e larghe
Flat and wide pasta such as fettucine, lasagne, pappardelle and tagliatelle) – luxurious and fulfilling, this type of pasta is well suited to dishes 'al sugo' (with a meaty sauce). Great examples include Pappardelle al ragù Bolognese style, Traditional meat lasagne and Pappardelle pasta with slow-cooked beef and porcini ragù
Paste rigate
Grooved pasta such as penne rigate, rigatoni rigate and pipe rigate) – perfect for saucy pastas as the ridges help a thicker sauce to cling to the pasta. Great examples include Penne pasta 'al pomodoro' (with Italian tomato sauce) and Rigatoni pasta alla norma
Paste liscie
Smooth pasta such as penne, farfalle and maccheroni) – hold sauces very well making it the perfect shape for creamy or seafood pastas such as Maccheroni pasta al formaggino (Italian mac and cheese) and Farfalle pasta with smoked salmon and baby prawns (shrimps). Not only is this the perfect pasta shape for sauces made from cream, milk and cheese, they are also good for vegetable pasta dishes or for cold pasta salads
Conchiglie or Orecchiette
Shell or ear shaped pasta – their cup-like shape helps to scoop up tomato-based or vegetable and a great choice for broccoli and rape recipes. Use them in recipes such as Orecchiette pasta with broccoli, Italian pork sausage and chilli and Orecchiette pasta with 'cime di rapa' (broccoli rabe) and pancetta
Pastina
Small pasta such as ditali, anelli, farfalline, risoni and filini) – Many used for 'brodo' (in soups) such as Lentil soup, Brodo di carne (beef soup) with polpettine (small meatballs) and Anelli pasta and Minestrone
Paste ripiene
Pasta with filling such as agnolotti, cannelloni, conchiglioni, ravioli and tortellini) – a more technical pasta dish with filling such as meat, vegetable, fish or cheese based. All fillings taste amazing with the most popular flavours including mushroom and dried porcini, pumpkin and sage, and spinach and ricotta. Sauces vary from a burnt butter sauce and granting of Parmigiano Reggiano cheese to rich ragù but all combinations equate to a really sophisticated dish. For great pasta with filling recipes refer to Ricotta and basil cannelloni, Ravioli filled with pumpkin and sage and Conchiglioni (large pasta shells) filled with ricotta.
How do you cook pasta perfectly like our Italian Nonnas?
Now that you are familiar with what pasta shapes to cook with what sauce, we'll share the secrets to cook pasta. Have you put thought into which pot to use, how much water to boil or how much/when to add salt to the pasta? These questions really count. Here are the secrets to cook pasta perfectly 'al dente', every single time, just like our Italian Nonnas:
1. Use a large pot to cook the pasta:
If you are thinking of using a small pot that the pasta barely fits into – think again. You need to use a large pot with an abundant amount of water so that the pasta is fully submerged and has space to cook in. There is a 10:100:1000 rule which says to use 10 grams of salt (1 tablespoons) per 100 grams of pasta in 1000ml (1 litre) of water. While this is a good guide, you may need more or less water depending on the pasta shape. E.g. you may use more for spaghetti or other long pasta shapes while other pasta shapes may not require quite this much. We'll talk about salting the water next. Place the large pot on high heat and bring to the boil.
2. Salt the water:
Once the water has reached boiling point, add the salt – coarse rock salt is best. Always add good quality sea salt. The amount of salt you use is always related to the amount of water. As a guide, use 10g of salt per 1 litre of water. Remember to wait for the water to once again reach the boil (2-3 minutes) before dropping your pasta into the water. Generously salting the pasta cooking water is one of the secrets to make amazing pasta. Sure, you can add salt later on but it is not the same.
3. What portion of pasta per person?:
You may notice that I have allowed a portion of 100g of pasta per person in my recipes. This is a very generous portion which really should be closer to 80g pf pasta per person but depends on your appetite and on the sauce. When serving pasta with a rich, meaty sauce you may wish to reduce the portion to 80g per person and increase the portion to 100g per person when cooking a lighter vegetable-based pasta. The pasta should be dropped in the boiling water all at once. The only exception to this is when cooking gnocchi or fresh agnolotti (or other filled pasta) which requires to be cooked in batches. These types of pasta will rise and float to the surface when ready. Use a 'cucchiaio di legno' (wooden spoon) to stir the pasta once you have added it to the water.
4. Should you place oil in the pasta cooking water?:
Not always but certain pastas would benefit from the addition of a drizzle of extra virgin olive oil to the pasta cooking water. Examples include fresh long pasta shapes such as tagliatelle, Pappardelle or spaghetti with the purpose to prevent the pasta from sticking together while cooking. If using dried pasta, there is no need to add oil.
5. The cooking of the pasta:
Pasta is not something that you can set and forget. Fresh pasta will only take 1 ½ minutes to cook. For dried pasta, use the cooking time specified in pasta packet instructions as a semi reliable guide. Pasta cooking time varies with the quality of the grain and the size of the pasta dough. The better the quality of the grain and the processing of the pasta, the longer the cooking time. For best results, stir the pasta from time to time to prevent it from sticking together. Also check the pasta 2 minutes before the cooking time suggested on pasta packet instructions. To do this use tongs to pick out a strand or a few pasta shapes. If not cooked, test again in 30 seconds to 1 minute and continue to test until perfectly 'al dente'. 'Al dente' means 'to the tooth' when translated from Italian and refers to pasta that is cooked but 'firm to bite'. Why cook pasta 'al dente'? It tastes better and has a lower glycemic index (GI) than soft cooked pasta – a good enough reason for all of us.
6. Drain the pasta:
Place a 'scolapasta' (colander) in the kitchen sink. Before draining the pasta, reserve a few ladlefuls of the pasta cooking water – this can be handy to add moisture and really bind the pasta and sauce together. When the pasta is cooked, toss it all at once into the colander. Never add cold water to pasta to stop the cooking – I repeat, never add cold water. Once you have combined the pasta and sauce, add the pasta cooking water to moisten the sauce.
How to complete the perfect pasta dish?
What is the icing on the top when it comes to pasta? A sprinkling of fresh herbs and a gentle toss of the pasta compliments the flavours and really elevates your pasta to another level. Many people make the mistake of cooking the pasta with the herbs however all the fragrance is lost with the cooking. Popular herbs include flat-leaf parsley, basil and mint and depend on the pasta dish.
Many pasta dishes also benefit from a fresh grating of Parmigiano Reggiano, Grana Padano or Aged Pecorino (sheep's milk) cheese on top. Not all pastas are enriched with the addition of cheese, however. You may be surprised to hear this as there are people that sprinkle cheese on all pastas. As a general rule, pasta dishes that contain fish or seafood should not be served with a grating of cheese.
What can I do with left over pasta?
Whatever you do, don't throw away any left-over pasta. Live la dolce vita by warming up your left-over pasta the following day or my favourite, make a Frittata of spaghetti – buon appetito.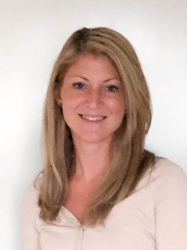 The only thing better than being in beautiful Italy is cooking and writing about Italian food!

I live in Melbourne, Australia with my husband Simone and two children. They are my first love! Italian Spoon brings my second love for cooking Italian food and blogging to life and I am loving it!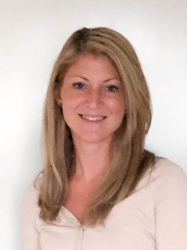 Latest posts by Vanessa Bottaro (see all)