Italian Easter menu ideas for 2021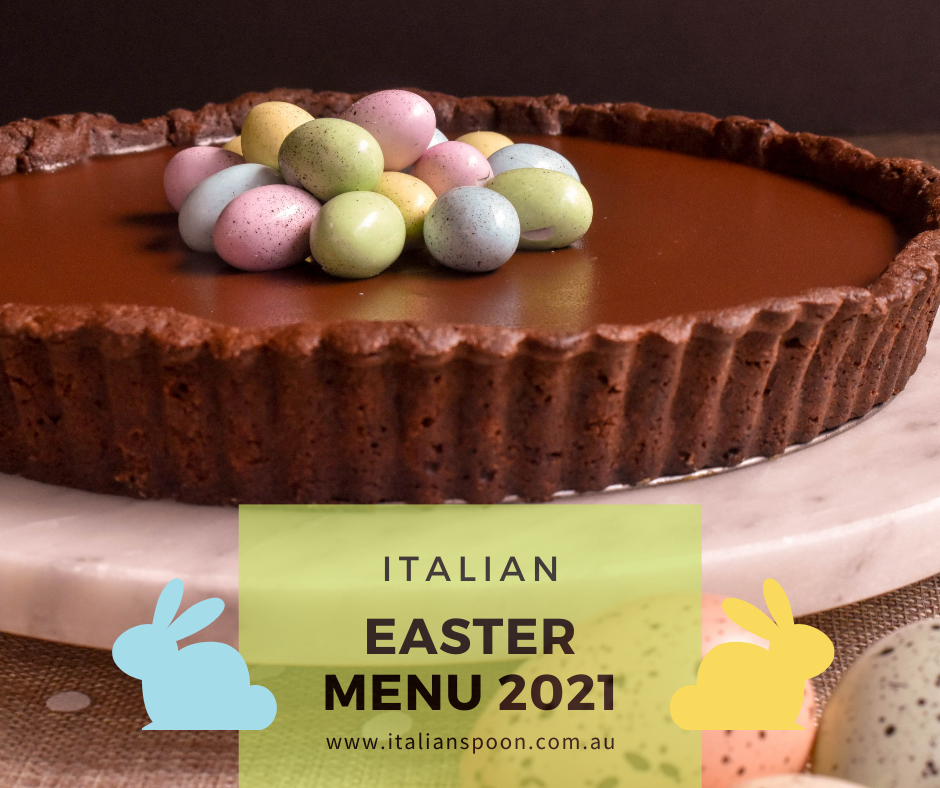 Have you been looking for Italian Easter menu ideas to inspire your Easter Sunday celebration? Pasqua (Easter Sunday) and Pasquetta (meaning 'Little Easter' which is Easter Monday) are just around the corner. Traditional Easter meals vary among regions in Italy but there are two foods you can expect to find on the menu regardless of the location – lamb and eggs, alright make that three ingredients including chocolate as well. In Italy, the focus is not only on chocolate eggs but real eggs for Easter, which are a symbol of rebirth and renewal. One of the most traditional Easter dishes is Torta Pasqualina (savoury Easter cake) containing Pasta Brisè (shortcrust pastry dough), spinach and eggs and is absolutely delicious.
Desserts are a must for an Italian-style Easter. Recipes including chocolate are a great choice for Easter celebrations including Chocolate Easter tart and Crostata of ricotta and chocolate. No matter which dessert is chosen to be served, an Easter meal is not complete without coffee and Colomba Pasquale (Dove Easter cake). The dove is a Christian symbol which originated from the story of Noah, who after the flood dispatched a dove to find dry land. The dove returned with an olive branch in its beak. Since then, the Dove was recognized as a symbol of peace.
The festivities don't end on Easter Sunday in Italy. Weather permitting, Italians celebrate Pasquetta by packing a picnic and heading out of town to the beach, mountain destinations or to country towns with friends. Some cities organize special events or concerts on Easter Monday. Pasquetta is a day to be celebrated 'al fresco' (outdoors), bringing Torta Pasqualina and leftovers from Easter Sunday and spending time with friends.
Italian Easter menu 2021
Try some of our Easter menu suggestions to add a little 'Pasqua' (Italian for Easter) to your Easter menu this year! We have chosen only the best dishes for our suggested menus to make this Easter extra special with not too many hours in the kitchen. They are even suitable for larger gatherings of 10 or more people. Even if you are lucky enough to have been invited to celebrate at a family member or friend's house this Easter, the Italian way is to bring a dish to share.
Antipasti:
Ultimate antipasto platter
Torta Pasqualina (savoury Easter cake)
Vitello tonnato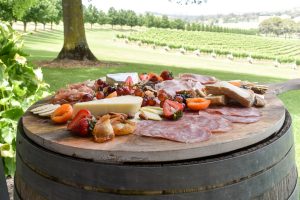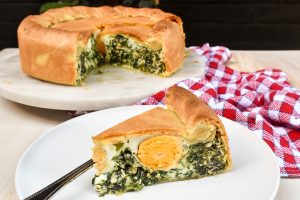 Primi piatti (First Courses):
Potato gnocchi with duck and porcini ragu'
Pasta al forno (pasta bake)
Pumpkin sage and ricotta lasagne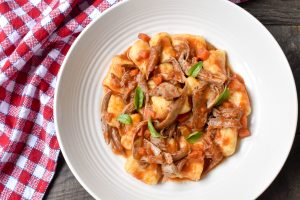 Secondi piatti (Second courses):
Lamb shanks with Parmesan Polenta
Baccalà alla Livornese
Lamb Meatloaf
Also read our blog: Top 8 Easter recipes and ideas to bring to the table this Easter for other mouth-watering lamb recipes and tips.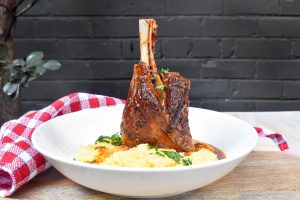 Contorni sfiziosi (Delicious side dishes):
Fennel and blood orange salad
Caprese salad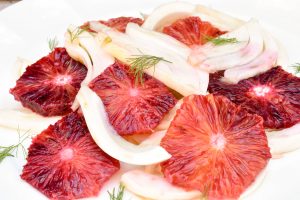 Dolci (Italian Desserts):
Chocolate Easter tart
Crostata of ricotta and chocolate
Coffee served with Colomba Pasquale (Dove Easter cake).
Tip: You can buy the world famous Vergani Colomba with the click of a button on Amazon. Vergani have been making making Colomba the traditional way in Milan since 1944 Colomba with amazing flavours including:
 Vergani Classic Colomba Cake
 Vergani Pistachio Colomba Cake with Dark Chocolate Topping and Pistachio Cream
 Vergani Limoncello-Flavoured Colomba Cake with Candied Lemon Peels
Just a heads up that we are a participant in the Amazon Services LLC Associates Program, an affiliate advertising program designed to provide a means for us to earn fees by linking to Amazon.com and affiliated sites.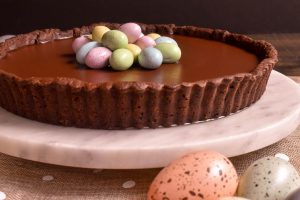 Ideas for your Easter décor
An amazing party not only has a great menu, but festive table setting. I think it is important to have an Easter theme in mind but you don't have to spend a lot of money to make your Easter decorations stand out. Easter is the perfect occasion to bring out fresh flowers and pretty pastel colours. This year I am loving rustic table décor with pastel coloured eggs and cute little bunnies around the table.
Buona Pasqua a tutti – Happy Easter to all
Happy Cooking!
X Vanessa and Simone Bottaro @ Italian Spoon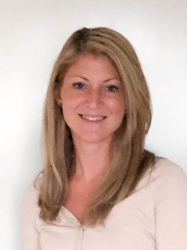 What is second best thing to being in beautiful Italy? Cooking and writing about Italian food, of course!

I live in Melbourne, Australia with my husband Simone and two children. They are my first love! Italian Spoon brings my second love for cooking Italian food and blogging to life and I am loving it!

I hope to inspire you to continue the tradition of Italian home cooking. Buon appetito!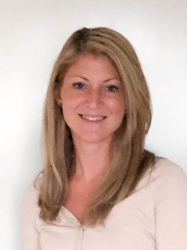 Latest posts by Vanessa Bottaro (see all)