Top 10 dishes inspired by 5 Italian cities to visit post Coronavirus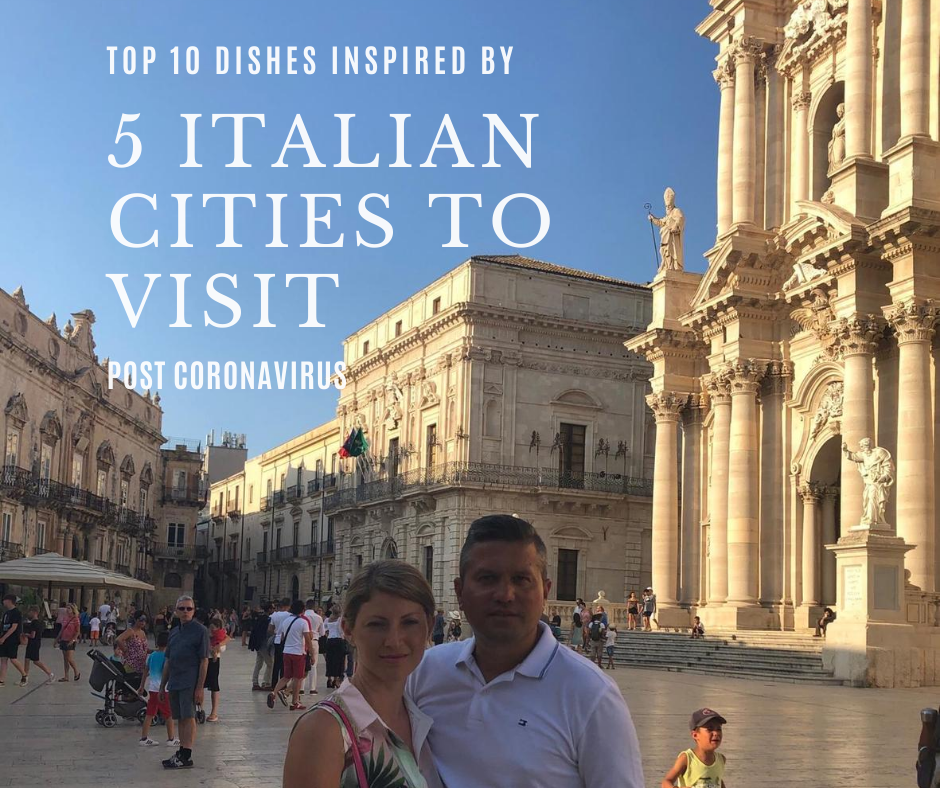 Italy is a popular tourist destination and should be on everyone's bucket list. There is no shortage of attractions whether you are in search for picture-perfect old cities, art and history, towering mountains and volcanos, designer boutiques and fantastic shopping, food and wine or amazing beaches. We've selected 5 cities to visit when the Coronaviris is over and top 10 dishes inspired by those cities. I am starting from the top of Italy and making my way down to the south.




Milano
Milano (Milan) is the financial hub of Italy and famous for its lifestyle of fashion and food. It is recognised internationally as one of the world's most important fashion capitals. That means shopping and restaurants, my favourite! A visit to Milano would not be complete without a visit to:
• The shops!!! I really need to start with the shopping as Milano has so much to offer from high-end luxury fashion brands to markets and fashion outlets with great bargains. For luxury fashion boutiques (or a walk and window shopping), you can't go past the 'Quadrilatero d'oro (meaning the golden quadrilateral), made up of Via Montenapoleone, Via Allessandro Manzoni, Via della Spiga and Corso Venezia. I will warm you that on these streets, even a stop for accessories will cost you an arm and a leg but better value and so much more variety than other countries in the world. If you could find the same item in Australia, it would cost more. I find the shops on Corso Venezia, Corso Vittorio Emanuele II, Via Torino and Corso Buenos Aires to have great fashion at reasonable prices
• La Rinascente – multiple floors of shopping heaven with a great collection of stores with Italian and international brands of fashion, accessories, beauty, homewares, design and food
• Galleria Vittorio Emanuele II, not only a stunning shopping venue with high-end shopping but Italy's oldest active shopping mall. The structure is in the shape of a cross covered by a glass and iron dome. The Galleria is located between two major landmarks of Milano, 'il Duomo di Milano' (cathedral) and the 'Teatro alla Scala', a famous opera house. Many of the greatest opera and finest singers, dancers and performers from around the world, would have appeared at Teatro alla Scala
• Castello Sforzesco (Sforza Castle), a sprawling complex built in the 15th century. Today it houses several museams and art collections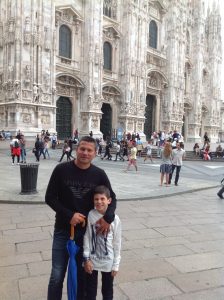 • Duomo di Milano (cathedral), made with pink-hued white marble is the fourth largest catholic church in the world. It took thousands of artists, sculptors and specialised workers and 78 Architects to complete. Why so many? The fact that it took 600 years to complete could have something to do with it. Construction began in 1386 and the final details were completed in 1965. Visit the rooftop for panoramic views across the piazza and city of Milano. If you are keen to walk, there are 250 steps, alternatively, there is an elevator and worth the additional cost. There is a dress code to enter the Duomo di Milano – you will need to have your knees and shoulders covered. I love this photo of Simone and Dante (when Dante wasn't towering over  me haha)
• Al Peck, a gastronomic emporium just 300 meters from the Duomo di Milano. It includes a delicatessen section including a fantastic selection of cheeses and cold meats, macellaria (butchery) with amazing quality meats and grocer with colourful produce that are a feast for your eyes – all under the one roof. There is also a bottle shop which sells a great range of wines, Pasticceria (pastry shop) and they even sell prestigious ingredients like lobster, caviar and truffle. If you're not already sold, you can always head upstairs to the Risorante Peck for lunch or early evening cocktail and l'aperitivo (aperitive) at Peck bar. In Milan there are so many places to enjoy aperitivo and at most places you will pay only for drinks and receive free food flowing – how fabulous!
• Pasticceria Marchesi or Pasticceria Vergani for Panettone where it is served all year round. Panettone, the Italian sweet bread which typically contains candied orange, lemon zest and raisins actually originated in Milan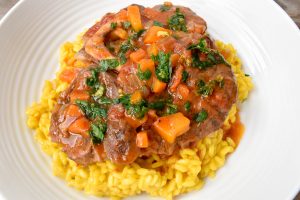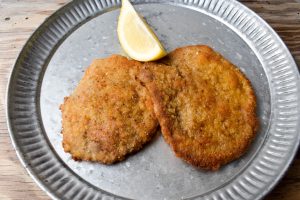 • Restaurants for Osso buco alla Milanese and Cotoletta Milanese – not to worry if you can't make it to Milan in a hurry as with Italian Spoon, you can click on the link above for the recipe.
Roma
I am in love with Rome and really do not know where to begin. Rome is one of the most beautiful cities of the world. I want to revisit the:
• Fontana di Trevi (Trevi Fountain), the world's largest Baroque fountain
• Pantheon, an ancient Roman monument of almost 2000 years and so well preserved
• Piazza Navona, one of the most beautiful piazzas in the world and famous for it's 'Fontana dei Quattro Fiumi' (Fountain of Four Rivers)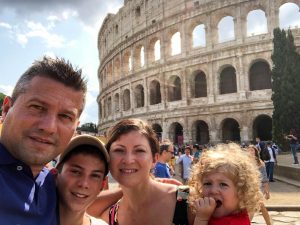 • Il Colosseo (the Colosseum), the largest amphitheatre in the world and without a doubt one of the most iconic symbols of Rome. Despite being partially ruined by earthquake, stone-robbers and fire damage, the Colosseum remains one of Rome's most popular tourist attractions. The remains of the Colosseum's outer façade are breathtaking and a photo hotspot. It is hard to imagine that it was built in ancient Roman times 2000 years ago and was used for gladiatorial contests and public spectacles for over 500 years. Here is a photo of us taken 2 years ago in front of 'Il Colosseo'
• Basilica Papale di San Pietro in Vaticano (St. Peter's Basilica), the largest and most impressive basilica in the world. I was blown away by the vast dimensions as I step into the interior of St. Peter's Basilica. Everything from the marble used, sculptures including Michelangelo's 'Pieta' and artwork are so beautiful. The exterior of St. Peter's Basilica is also impressive, as is St. Peter's Square, a large piazza directly in front of St. Peter's Basilica and the place where great masses of people gather to see the Pope deliver his blessing
• Musei Vaticani (Vatican Museums), the home of approximately 70,000 works. There are 54 galleries in total which display remarkable sculptures, frescos, religious and other works of art, even a fabulous gallery of Italian maps. The last sala and without a doubt the highlight of the museum is the 'Cappella Sistina' (Sistine Chapel). From Michelangelo's painted ceiling in the chapel to the frescos that decorate the walls, I was blown away by the outstanding talent and the stories that the art depicts. Make sure you get skip-the-line tickets before visiting and I am going to share some 'inside info' with you. The Sistine Chapel has an unmarked door to the far-right end of the chapel from where you enter. It is supposed to be for tour groups only and provides skip the queue access to St. Peters Basilica. I recommend you go through this door after visiting the Sistine Chapel
• Birthplace of 4 famous pastas – Spaghetti alla carbonara (the real Carbonara, not the pasta with cream that you may be thinking of), Spaghetti Cacio e pepe, Pasta alla gricia and Bucatini all'amatriciana. Interestingly 3 out of these 4 pastas contain Guanciale (but you could also use Pancetta as a substitute)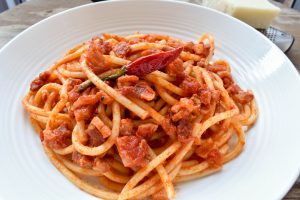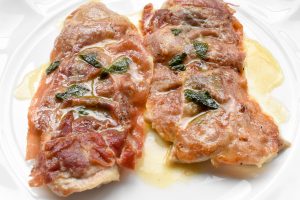 Roma not only inspires me to make pastas (with lots of Pecorino cheese), but is also known for its lamb and veal dishes. Try our recipe for delicious Bucatini all'amatriciana and Veal Saltimbocca alla Romana from anywhere in the world.




Firenze (Tuscany)
A visit to Tuscany inspires creativity at its highest with beauty all around including masterpieces that were created in the city of Florence, paintings and sculptures that are displayed in over 80 art museums, beautiful Renaissance architecture and cobblestoned streets, vineyards, olive groves and orchards full of amazing local produce for delicious cuisine. It is an experience just to walk around this picturesque city and admire the architecture. I find the beauty that Florence has to offer to be most inspiring – no wonder why it is the birthplace of so many famous artists and great Florentine writers and poets. One of the most famous Florentine poets is Dante Alighieri whom my son Dante is named after. His poem, 'The Devine Comedy' is widely considered the most important poem of the Middle Ages and one of the greatest literary works in the Italian language.
There is so much to do in Firenze under the Tuscan sun including to experience:
• The Piazza del Duomo with huge Gothic-style Basilica di Santa Maria del Fiore, a beautiful cathedral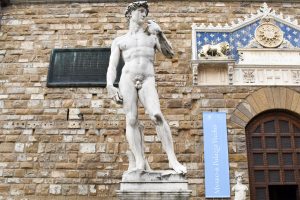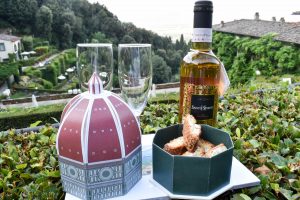 • Galleria degli Uffizi, the largest and most popular museum in Florence, Galleria Dell'Accademia, the city's second largest museum and Duomo Museum, housing a collection of paintings and sculptures, including Michelangelo's Pieta and Donatello's La Maddalena. There are so many more museums to visit that I have not mentioned on this list. If you have the time, visit more – I can guarantee that it will enrich the experience and your trip will not be complete without them
• Piazza della Signoria (an L-shaped square in front of the city hall 'Palazzo Vecchio')
• Ponte Vecchio (which means 'Old Bridge' and today a host of shops and merchants to display goods)
• Piazzale Michelangelo (meaning 'Michelangelo square' with a panoramic view of Florence and is simply breathtaking.
• Piazza Santa Croce, with staggering statue in Dante Alighieri's honour
• Dine in many restaurants which offer great food, some with panoramic views over the beautiful Florence. I particularly love eating meat based dishes, a staple of Florentine cuisine
In Tuscany, the meat and vegetables are sourced from local producers. Popular dishes that originated in Florence include Bistecca alla Fiorentina (T-bone steak traditionally from Chianina beef).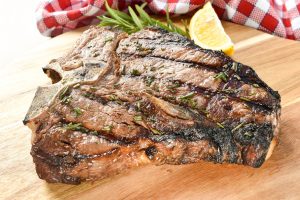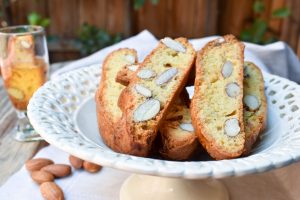 Try our recipe for Bistecca alla Fiorentina and get the taste of Tuscany. That's not all! Tuscany is famous for its wine made in the region of Chianti. If you ever want to really treat yourself, try the Brunello di Montalcino or Chianti Classico Marchese Antinori wines, or finish your meal with a glass of Vinsanto (a dessert wine) or espresso coffee and cantucci (Tuscan- style almond biscotti) Try our recipe for Cantucci recipe today!
Sorrento
Sorrento has a luxury resort feel with a spectacular view of the pastel-coloured houses stretching across the steep cliffs that seem to drop into the crystal-clear waters. Up high on the cliffs of Sorrento are sloping wineries, aromatic lemon groves and olive trees. The Amalfi coast stretches across 50km of the most beautiful looking coastline with hiking trails that could even inspire me to trail along. When the coronavirus is over, I want to visit: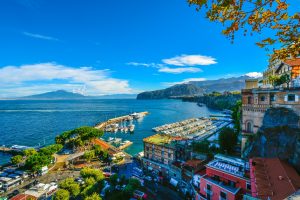 • Marina Grande and Marina Piccola (large and small marina), a boardwalk atmosphere that is lined by seafood restaurants overlooking the water and a stunning view of Mount Vesuvius
• Villa Comunale, a park directly above the Marina Grande. It is particularly beautiful to see the breathtaking views at sunset from the terrace overlooking the harbour and watching the mega-yacht lifestyle – how romantic!
• Bagni della Regina Giovanna, a pool created by the separation of the sea from a rock arch which is breathtakingly surrounded by steep rock cliffs. It is an enchanting place, perfect to get in touch with nature and great for taking instagram pics
• The narrow streets and cobbled alleyways and into local narrow filled with restaurants, gelaterie (gelato shops) and wine bars
• A lemon grove and learn about the process of growing lemons in Sorrento where the lemons are huge in size and have a skin that is so soft, oily and incredibly aromatic. It is also where they produce the best Limoncello in the world. Limoncello is an Italian lemon liqueur that is traditionally served chilled (from the freezer) as an after-dinner digestivo (digestive). It is the second most popular liqueur in Italy. Apparently, the sign of good Limoncello is if you can drink it at room temperature. The aromatics of the lemon zest should come through rather than the taste of cheap alcohol which is often masked by the freezing temperatures
• Puolo, a large stretch of beautiful beach with shallow water perfect for families. Puolo has a free public beach on one side and private Blumare Beach Club private beach on the other side with both a sundeck and a stretch of beach
• Duomo di Sorrento (Sorrento cathedral) with a fresco on the outside, three story bell tower and decorated with a clock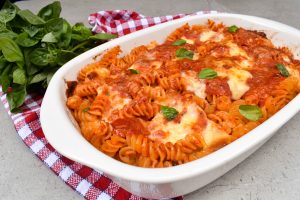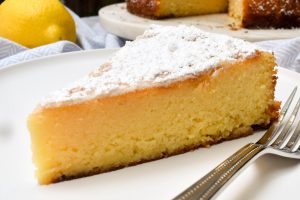 Cook traditional Italian recipes from the Sorrento Coast including Italian Spoon's Pasta alla sorrentina, not to forget a dish with lemons like Torta Caprese Bianca (Gluten-free lemon and white chocolate cake).

Siracusa (Sicily)
Maybe I am a little biased in wanting to return to Siracusa, the city that Simone (my husband) was born in and where his family still lives but there is no denying how beautiful it is. Siracusa is not the only city though as Sicily is filled of stunning places to visit such as Taormina. The entire island of Sicily also has stunning, crystal blue seas surrounding the largest island of the Mediterranean. I can't wait to be back in Siracusa and visit/experience: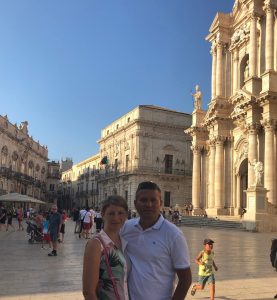 • Ortigia, oldest cities in the Mediterranean for a walk at night. Ortigia is a small island which was historically the centre of the city of Siracusa, Sicily (also known as 'Città Vecchia' (Old City). I love to visit Piazza Duomo, one of the most famous and beautiful squares and have a granita and brioce or gelato and brioche (ice-cream sandwich) to admire the beautiful Duomo di Siracusa (Cathedral of Syracuse).  There is also Fonte Aretusa (Fountain of Arethusa), a natural fresh water fountain with fish, geese and ducks. It is also the place where the natural plant 'Papiro' (Papyrus) grow, used in ancient times as a writing surface. In Ortigia, the night life is great with delicious street food vendors, bars and restaurants everywhere, offering all sorts of foods – savoury and sweet
• La basilica santuario Madonna della Lacrime (The basilica sanctuary Madonna delle Lacrime), a magnificent cone-shaped church that dominates Syracuse's skyline and was built in honor of the miracle of the weeping plaster figure of the Virgin Mary that it preserves. The story goes that the plaster figure was placed at the bedside of the Iannuso couple in Siracusa and in 1953. Antonina Giusto Iannuso, the owner of the plaster picture and first person who noticed the presence of tears was the first to be healed as she had no more problems with current pregnancy after falling ill. Analysis was conducted on the collected tears and found to be human tear fluid. The plaster figure wept for four days in 1953. After hearing of the miracle, crowds of people appeared for healing and created more than 300 miraculous cures – how amazing!
• Temple of Apollo, Greek amphitheatre dating to 470 BC, many other ancient ruins and Orecchio di Dionisio (Ear of Dionysus), a famous cave with acoustic effects inside the cave – people's voices can echo up to 16 times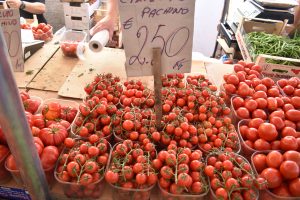 • Ortigia Market with so much charm and colourful seasonal vegetables and during the summer months of the year the sweetest tasting cherry tomatoes I have ever tasted, including a variety from Pachino (Province of Siracusa) which are among the best tasting tomatoes in the world which is why I love Fusilli pasta 'con pomodorini e basilico' whenever I visit. Interestingly, Pachino has the greatest number of daylight hours in Europe. The sweet taste of the Pachino tomatoes can also be attributed to the groundwater being in close proximity to the sea. Locals claim that the tomato plants absorb the salty water which delivers the sweet taste. There is also an amazing choice of cheeses and cold meats at La Salumeria and the freshest fish. You can also pick up a great panino from 'Caseficio Borderi'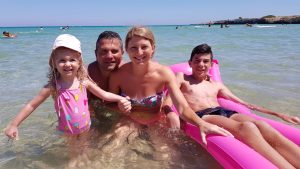 • The beaches – Here is a photo of us at Lido Arenella, my 'happy place'. In Sicily, you are spoilt for choice when it comes to beaches and resorts – the water is crystal clear with a sea temperature of more than 25°C (77°F) – much better than the 18°C (64°F) in Melbourne brrrrr
• Granita, a frozen dessert made using fruit or nuts, sugar and water (tastes like the most amazing slushie you have ever had) – my favourite is the classic granita alla mandorla (almond) flavour but there are so many other fantastic flavours
• Cannoli and arancine – yum. I am not saying that Siracusa is the only city in Sicily to eat well however the history of the place makes it that little more special, at least to me
• Pistachios from Bronte, a small town near Mount Etna, known as 'green gold'. Mount Etna is one of Europe's tallest active volcanos in the province of Catania. Pistachios from Bronte are prized all around the world and known for their pure, delicate flavour and exceptional colour. The pistachios are spectacular as the trees in this region are picked only every other year. On the off years, farmers discard the newly-formed fruit to give the tree a chance to rest and recuperate nutrients – you must try them when in Sicily!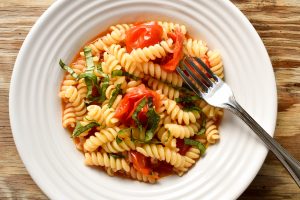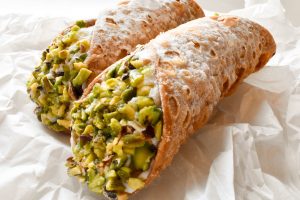 Not only is Sicilian food absolutely delicious, the beautiful ancient architecture will make anyone fall in love with the city. We love eating Fusilli pasta 'con pomodorini e basilico' and Cannoli in Mamma Pina's 'Cucina Siciliana' (Sicilian kitchen). Try Italian Spoon's recipe for Fusilli pasta 'con pomodorini e basilico' (with cherry tomatoes and basil) and Cannoli alla Siciliana today!

Between the beauty of the art and culture, the food and shopping, I can guarantee that you too will fall in love with these Italian cities. Want to get the taste of Italian dishes without the travel? With Italian Spoon, will have you cooking like a true Italian. Buon appetito!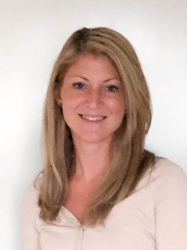 What is second best thing to being in beautiful Italy? Cooking and writing about Italian food, of course!

I live in Melbourne, Australia with my husband Simone and two children. They are my first love! Italian Spoon brings my second love for cooking Italian food and blogging to life and I am loving it!

I hope to inspire you to continue the tradition of Italian home cooking. Buon appetito!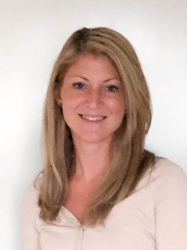 Latest posts by Vanessa Bottaro (see all)