When in Rome, eat like a Roman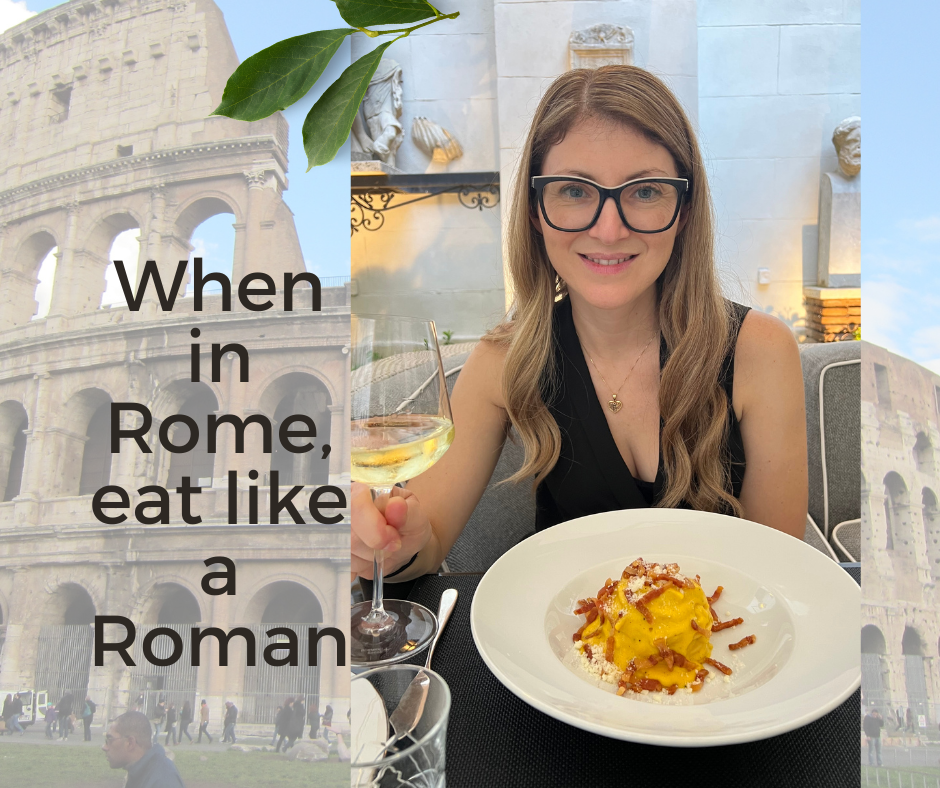 Rome is without a doubt, one of the most beautiful cities in the world. I am so grateful for the opportunity to travel back to Rome this week. I guess my coin toss in the Fontana di Trevi (meaning "Trevi fountain") did work in bringing my family back. It has been nothing short of amazing! Rome is the birthplace of the world-famous Spaghetti Carbonara and many other pastas. I am talking about the real Carbonara, not the pasta with cream that you may be thinking of. The weather has been warm, and we have taken foot (yes – lots of steps, including the 135-step staircase of 'Scalinata di Trinità dei Monti' (The Spanish Steps) to soak up the highlights that Rome has to offer has to offer. We have also enjoyed Roman dishes. The saying goes, when in Rome, eat like a Roman (and we have enjoyed every minute of it)! Here are 6 dishes to eat like a Roman when in Rome and Roman food recipes you can cook from your very own home.


#1 Spaghetti alla Carbonara
Carbona is a favourite of many around the world but I wonder how many people outside of Italy have experienced the 'Real Carbonara' (without cream which is not an ingredient of Carbonara). The perfect carbonara starts with the right ingredients. When made well, the end result is egg creaminess which is perfectly balanced with the nuttiness of the pasta, spiciness of peppercorns, richness of the cheese and crispy, saltiness of guanciale. In one word: delicious. The preparation of Spaghetti alla Carbonara is very simple – made by frying guanciale in lard or butter (though pancetta makes a great substitute), then raw egg yolks and Pecorino Romano cheese are tossed with the spaghetti in a frying pan off the heat to cook the egg gently, rather than scrambling it. The result is lovely and glossy. The final touch is a grating of Pecorino Romano cheese and freshly ground black pepper on top.

Get the Carbonara Recipe
Spaghetti alla Carbonara is very simple to make and loved by all. Follow our recipe step-by-step and get a true taste of the Real Spaghetti Carbonara, the way the Romans intended, from your very own home. Note that you really should cook all your pasta dish dishes 'al dente' (meaning firm to the bite) but this rule is especially important for Carbonara. You can also read our blog for tips and tricks in our blog 5 rules to make the real carbonara.
#2 Bucatini pasta all' Amatriciana
The famous Amatriciana pasta originated (surprise, surprise) in the town of Amatrice; the mountainous Province of Rieti in the region of Lazio, Italy. Amatriciana was basically the addition of tomato to Pasta alla gricia which is prepared with guanciale (cured pork cheek) and grated Pecorino Romano. It is crazy to learn that the invention of the earliest Amatriciana dates back to the late 18th century. Interestingly, in Amatrice the pasta dish is commonly prepared with spaghetti, whereas in Rome, the use of bucatini and mezzi rigatoni has become prevalent.
Get the Bucatini pasta all' Amatriciana recipe
As per Carbonara, cook pasta 'al dente' for Amatriciana. Italian Spoon's Bucatini pasta all'Amatriciana recipe takes its spiciness from fresh chilli and depth of flavour from guanciale (or pancetta), rich tomato sauce and freshly grated Pecorino Romano cheese. Try creating this traditional Italian classic recipe today!
#3 Veal Saltimbocca alla Romana
As the name suggests, Veal saltimbocca alla Romana is one of the classics of Roman cuisine. The main ingredients are veal, prosciutto and sage leaves. This dish is so easy to make with Saltimbocca meaning 'jump in the mouth', a reference to just how fantastic it tastes.
Get the Veal Saltimbocca alla Romana recipe
Cook our recipe for Veal Saltimbocca alla Romana. It only takes 20 minutes to prepare but is a family favourite.

#4 Roman Supplì
Supplì is a Roman rice dish typically made using tomato sauce and mozzarella. The name is an Italianization of the French word for surprise. They are also referred to as Supplì al telefono (meaning "Telephone style Supplì") as after taking a bite into it, the mozzarella string (the surprise) resembles a telephone handset. These Roman delights have been cooked in Rome since the 1800s and are similar to Sicilian arancine and rice croquettes.
Get the recipe for Roman Supplì
Italian Spoon's recipe for Tomato and mozzarella Supplì is divine combining the sweet taste of tomatoes and a mozzarella string that forms when you pull them apart. It is loved by all ages and guaranteed to be your next family favourite.
#5 Spaghetti cacio e pepe
Spaghetti cacio e pepe means spaghetti cheese and pepper and is one of the most ancient dishes of Italian cuisine. As the name suggests, the dish contains aged Pecorino Romano cheese and black pepper, then it is tossed with Spaghetti. The secret is in the cheese sauce made by melting the Pecorino Romano cheese and pasta cooking water over the heat until it melts and forms a smooth sauce. Dating back to ancient times of the Roman Empire, it was a practical dish and a favourite among shepherds due to the ingredients having a long shelf life. Today the dish sits proud as one of the 4 famous pastas of Rome. The others being Spaghetti alla carbonara, Bucatini all'amatriciana and Pasta alla gricia. Interestingly the other 3 of these pastas contain Guanciale (or Pancetta as a substitute).
Get the Spaghetti cacio e pepe recipe
Follow Italian Spoon's recipe for Spaghetti cacio e pepe, the way the Romans intended from your very own home. To get a true taste of Spaghetti cacio e pepe, the pasta must also be cooked 'al dente'.

#6 Panino con la porchetta
An absolute must eat in Rome is il panino con la porchetta (meaning "the sandwich with porchetta"). Porchetta is a boneless belly pork roast which is moist and in one word delicious! It is often marinated with olive oil, rosemary and fennel (or other herbs), before being slow roasted. Although popular all over Italy for celebrations, porchetta is available all year round in central Italy, particularly in Rome.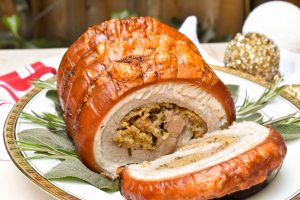 Get the Porchetta recipe
If you are after a pork sandwich that is lovely and moist, porchetta is for you. If you can't make it to Rome any time soon, there is no reason why you can't cook Italian Spoon's recipe for Porchetta pork roast using pork belly roast or (or with the loin attached) in your very own home. If you are after a sandwich that is a little more festive, stuffed Christmas Porchetta is delicious for dinner and great for leftover sandwiches. Use focaccia or your favourite bread for the sandwich and even add a little of the crunchy and mouth-watering crackling for some crunch!
X Happy Cooking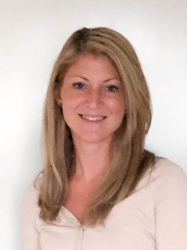 What is second best thing to being in beautiful Italy? Cooking and writing about Italian food, of course!

I live in Melbourne, Australia with my husband Simone and two children. They are my first love! Italian Spoon brings my second love for cooking Italian food and blogging to life and I am loving it!

I hope to inspire you to continue the tradition of Italian home cooking. Buon appetito!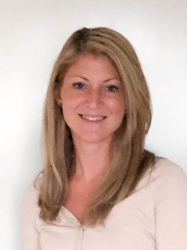 Latest posts by Vanessa Bottaro (see all)