Spaghetti vongole (Pasta with clams)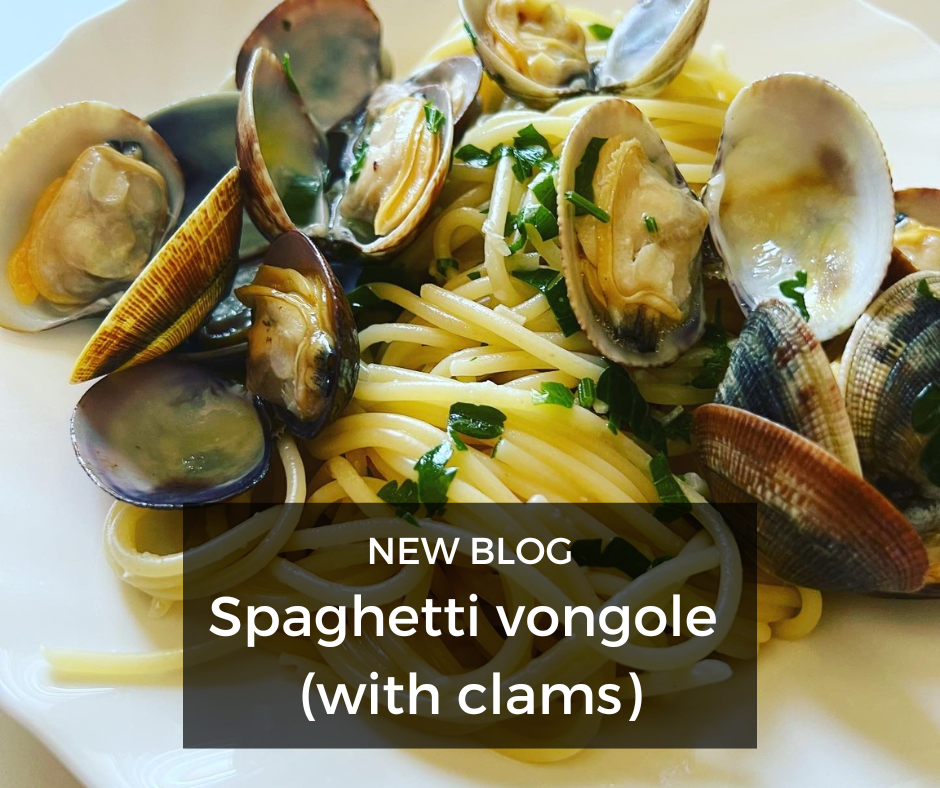 If you feel like cooking a tasty but simple recipe with seafood, it does not get much better than Spaghetti alle vongole. Spaghetti alle vongole (with clams) is one of the most traditional and loved dishes of Italian cuisine. It is traditionally served for dinner on Christmas Eve or New Years' Eve but the perfect dish for any occasion. Originating in the Campania region, learn how to make this simple recipe which combines a taste of fresh clams from the sea with flavours of olive oil, garlic, chilli, parsley and white wine.

From a nutritional standpoint, clams are an excellent source of protein, iron and calcium. Additionally, I hear that clams are also great for males' fertility, collagen synthesis, they contain lots of vitamin b12 and help to regulate blood pressure. There are many varieties of clams to use for Pasta alle vongole. My favourite would have to be Vongole veraci, a variety of clams with a hard shell. These are the most common and appreciated in Italy for their sweetness and tenderness. Whichever variety of clams you choose to cook with, the below recipe is the one to follow.
Spaghetti vongole recipe
Time: 20 minutes (plus time to clean clams – or ask your local fishmonger to clean the clams for you)
Ingredients for 4 people
1kg clams
400g Spaghetti pasta
4 tablespoons (80ml) extra virgin olive oil
1 large garlic clove, finely chopped
1 small red chilli, finely sliced
125ml white wine
Handful flat-leaf parsley, finely chopped
Sea salt
Step 1: Use a firm brush to scrub the clams under cold running water to remove sand. If the clams are fairly clean, place in a colander under a running water tap to clean. Discard any shells that are chipped, broken, or damaged in any way.
Step 2: Use a large pot with an abundant amount of water so that the pasta is fully submerged and has space to cook in. Place on high heat and bring to the boil. Add the spaghetti pasta and salt to the boiling water. There is a 10:100:1000 rule which says to use 10 grams of salt per 100 grams of pasta in 1000ml (1 litre) of water.
Step 3: Cook until 'al dente' (firm to the bite), referring to the cooking time specified in pasta packet instructions.
Step 4: Meanwhile, heat the olive oil in a large, non-stick frying pan over high heat. Add the garlic and chilli. Cook without browning the garlic for 1 minute. Add the clams and pour over the wine. Cook for 3-4 minutes or until the clams have opened and wine evaporated. Discard any unopened clams.
Step 5: Drain the pasta.
Step 6: Add the pasta to the frying pan with clams and toss well over the heat for 1 minute to soak up lovely flavour. Season with salt to taste, then remove from the heat. Add the parsley and toss to combine.
Step 7: Divide the Spaghetti alle vongole among 4 serving bowls. Buon appetito!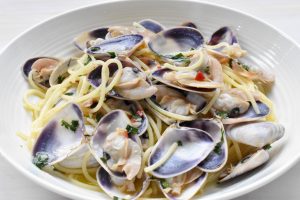 Full recipe for Spaghetti alle Vongole also here.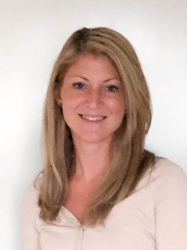 What is second best thing to being in beautiful Italy? Cooking and writing about Italian food, of course!

I live in Melbourne, Australia with my husband Simone and two children. They are my first love! Italian Spoon brings my second love for cooking Italian food and blogging to life and I am loving it!

I hope to inspire you to continue the tradition of Italian home cooking. Buon appetito!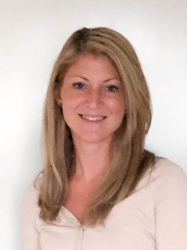 Latest posts by Vanessa Bottaro (see all)