Tips and recipes to make perfect meatballs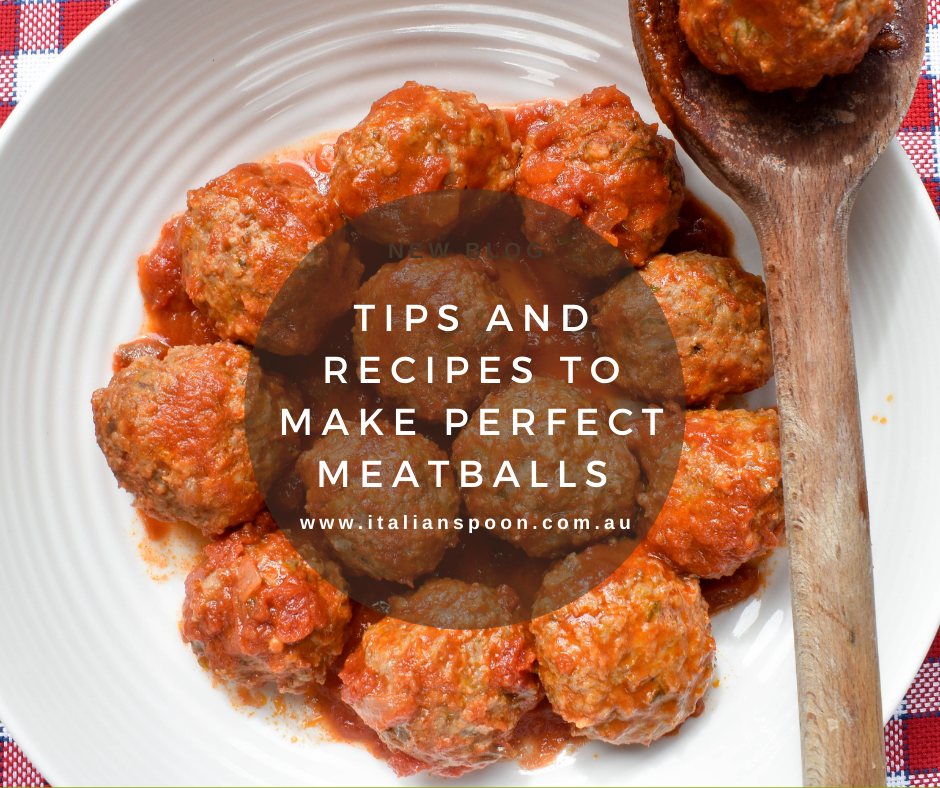 Everyone loves a great meatball! Meatballs are my go-to comfort food to impress all ages at the dinner table, especially the young critics. Meatballs are an affordable meal, falling into the category of "Cucina Povera" (poor kitchen) but without a doubt, the cost of these dishes is not reflected in the flavour. Whether you are seeking the recipe for traditional saucy meatballs, poultry or other exciting options such as meatless meatballs, we have the recipes for the most juicy and tasty meatballs you will ever make. Read our blog to discover the right meatball for you.
Just a heads up that we are a participant in the Amazon Services LLC Associates Program, an affiliate advertising program designed to provide a means for us to earn fees by linking to Amazon.com and affiliated sites.




What makes meatballs soft and juicy?
Before we get into our favourite meatball recipes, I am sharing our tips to make your meatballs soft and juicy, every time.
Tip #1: Choose meat with the right meat to fat ratio
The best meatballs start with the perfect meat selection. Before I give this tip, I should say that I am in mostly in favour of lean (low-fat) animal-based foods for good health. There is no getting around that you need a little fat in your meatball mixture. You could get away with it for meatballs made from poultry but otherwise lean minced meat (ground meat) is not going to cut it. We are talking about meat with the right meat to fat ratio here. Ideally, we are looking for 70% meat and 30% fat which I should say is to be eaten in moderation. Want your meatballs to be leaner? I am willing to compromise for 80% meat and 20% fat but that is absolutely where I draw the line.
Tip #2: Combine different meats
For great flavour and juicy traditional meatballs, I like to use a combination of beef and pork. My favourite combo is stewing (chuck) steak and minced pork shoulder (or pork that is not too lean) – this makes a really flavoursome meatball! Ask your butcher to freshly mince the meat for you. Pre-minced meat is okay but we are striving for perfection here!
Tip #3: Add milk and bread
One thing I always and I mean always use is milk-soaked sliced bread or breadcrumbs to my meatball mixture. Milk and bread help to bind the ingredients together yet break up the density of the meat, creating little air pockets that make your meatballs lovely and soft. Fresh sliced bread (without crust) works best however dried breadcrumbs also works well.
Tip # 4: Cooking Essentials to make the perfect meatballs
Fried, baked, cooked in sauce, boiled in broth – there is no wrong way to cook meatballs. You don't even need to have Nonna by your side to make the greatest meatballs. You just need the right equipment and the right recipe. Before we get into our favourite meatball recipe, let's talk about cooking essentials. For classic meatballs in sauce, I love my Le Creuset Signature Enamelled Cast-Iron French Pot which makes cooking meatballs so much easier – the pot evenly distributes heat, locking in flavour and moisture. I also use my Essteele Covered Casserole dish. It is black and sexy, 28 cm in size and holds 7.5 litres – now that is some serious meatball sauce.
To pan fry meatballs, you'll want to use an oil coated large frying pan such as Tefal Everest Frying Pans. It is compatible with all hobs and the Thermo-Spot technology lets you know when to start cooking. What I love the most about it is that it features an ultra-durable non-stick coating that is super easy to clean. The only thing you need to worry about is not adding too many meatballs and overcrowding the pan. You also need to turn them occasionally for 2-3 minutes or until golden and crisp.
To bake meatballs, simply arrange in a baking tray lined with baking paper and oil and bake for 15 to 25 minutes depending on the size of the meatballs. It could not be easier. If you like stainless steel, I recommend Cuisinart 7117-135 Chef's Classic Stainless 13-1/2-Inch Lasagna Pan. It is great for cooking meatballs, casseroles and lasagna but really it is an all-rounder. It is designed to hold large roasts and is dishwasher safe, making it a must have cookware item for family dinners, parties, and holiday celebrations. I also like using ceramic cookware such as Cuisinart CI1136-24CR Chef's Classic Enameled Cast Iron 14-Inch Roasting/Lasagna Pan. It has superior heat retention and even heat distribution. This baking dish looks fantastic and takes your dish from oven to table! When you are finished eating your delicious meatballs, simply place in the dishwasher to clean. See Cookware references at the end of this post for details to purchase.
Perfect Meatball recipes
We have covered how to make your meat balls juicy and must-have cooking equipment. Whichever recipe you choose, make sure that your meatballs are well seasoned for optimum flavour. Now to the fun part of picking which recipe to cook.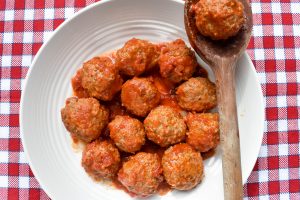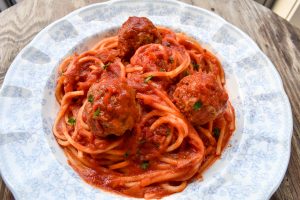 1. Classic Italian Saucy meatballs – two ways
With pasta or without, that is the question. If you ask my kids, the response will always be to eat saucy meatballs with pasta. I get it! This recipe was almost made to sit on top of pasta but let's be clear that there is no reason you couldn't eat saucy meatballs without it. You won't be disappointed by Italian Spoon's Spaghetti pasta with meatballs or Polpette al sugo (saucy meatballs) to eat juicy meatballs on their own.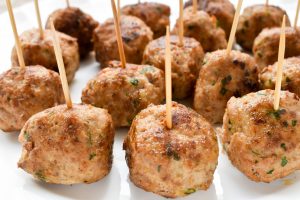 2. Fried Italian meatballs
Fried Italian meatballs are crispy on the outside, soft on the inside and so easy to make! They are great as an antipasto, to serve with a salad or as a main meal with vegetables. Our recipe for fried meatballs uses beef mince however there is no reason you could not modify it to suit your needs. Pork, lamb and poultry make great alternatives and an equally tasty meatball.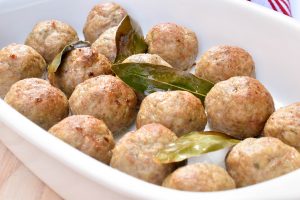 3. Baked meatballs
Baked meatballs are easier to cook. Have you been looking for a moist and tasty meatball recipe that is perfect for mid-week meals? Our baked turkey meatballs are light but filled with amazing flavours of Italy including mortadella, Parmigiano cheese, and fresh sage. Doesn't that sound delicious? Our recipe for Baked Turkey Meatballs is tried and tested – I can guarantee that the whole family will love them!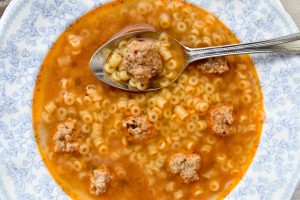 4. Small meatballs in soup
It Italy, 'polpettine in brodo' (meaning small meatballs in broth) are a classic antipasto and first course. A good meatball soup starts with a good broth which is equally as important to the meatballs. Before you reach for the stock cube, the base of any traditional Italian brodo are good quality vegetable such as onion, carrots, celery, tomato (alternatively chopped tomatoes or tomato paste) and herbs such as parsley or bay leaf however vary with each recipe. For example, thyme or rosemary are popular additions to make meat broth. Chicken and beef broth would have to be the most popular as a base for meatballs. We will often make extra brodo and freeze it in small containers – it can come in handy for a quick comforting meal for the kids or as a base for dishes. The meatballs that are cooked in brodo are typically the size of marbles. Our recipe is rich in vegetables and protein, including beef broth and meatballs made using veal mince for a milder flavour. If you want to spice up your usual beef soup, try our recipe for Meatball Soup that combines small Anelli pasta. You will not be disappointed!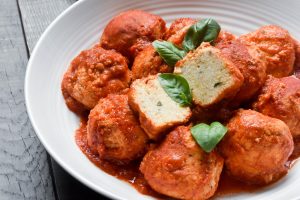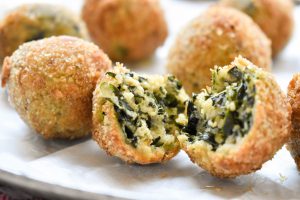 5. Meatless meatballs – 3 fabulous recipes
Meatballs are true comfort food but what if you don't eat meat or are trying to reduce your meat intake? We don't think you should be deprived and have three meatless recipes to choose from. Our light and tasty recipe for Ricotta balls in tomato sauce is a traditional Calabrian recipe that uses ricotta to substitute meat and brings the colours of the Italian flag green, white and red; and the flavours of the Italian region of Calabria, a land rich in dairy products. Eat these with pasta for extra comfort or on their own for a lighter but yummy meal. Our Spinach and ricotta balls are delicious and nutritious – they will make you feel like you're in Italy.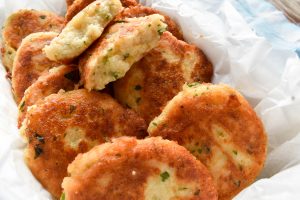 Another great recipe and a family favourite are our traditional Sicilian-style Potato polpette. These are a flatter meatball. If you ask me why they are flattened, I will say because that is the way Nonna makes it and I have never dared to change it! These potato balls have a golden-brown coating on the outside with delicious potato flavour. Meatless meatballs have never looked and tasted as good as these!
Meatballs are an easy, delicious and comforting meal, especially during the cooler months. On the 9th March we celebrate National Meatball day. The only real way to celebrate National Meatball Day is by cooking up your favourite meatball recipe of course. I plan on cooking extra meatballs the night beforehand and turning the leftovers into something special. Leftover meatballs make the best meatball panini or meatball salads. We would love to hear about your favourite way to eat meatballs. Please write a review and let us know!
X Happy cooking
Cookware References
-Le Creuset Signature Enamelled Cast-Iron French Pot
Buy from Amazon (Australia)
Buy from Amazon (US)

-Essteele Per Domani Covered Casserole dish
Buy from Amazon (Australia)
-Tefal Everest Frying Pans
Buy from Amazon (Australia)
-Cuisinart 7117-135 Chef's Classic Stainless 13-1/2-Inch Lasagna Pan
Buy from Amazon (Australia)
Buy from Amazon (US)
-Cuisinart CI1136-24CR Chef's Classic Enameled Cast Iron 14-Inch Roasting/Lasagna Pan
Buy from Amazon (Australia)Buy from Amazon (US)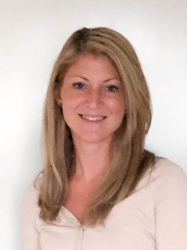 What is second best thing to being in beautiful Italy? Cooking and writing about Italian food, of course!

I live in Melbourne, Australia with my husband Simone and two children. They are my first love! Italian Spoon brings my second love for cooking Italian food and blogging to life and I am loving it!

I hope to inspire you to continue the tradition of Italian home cooking. Buon appetito!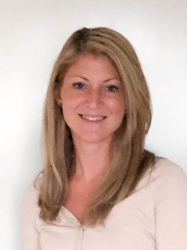 Latest posts by Vanessa Bottaro (see all)