6 Golden rules on how to make the perfect frittata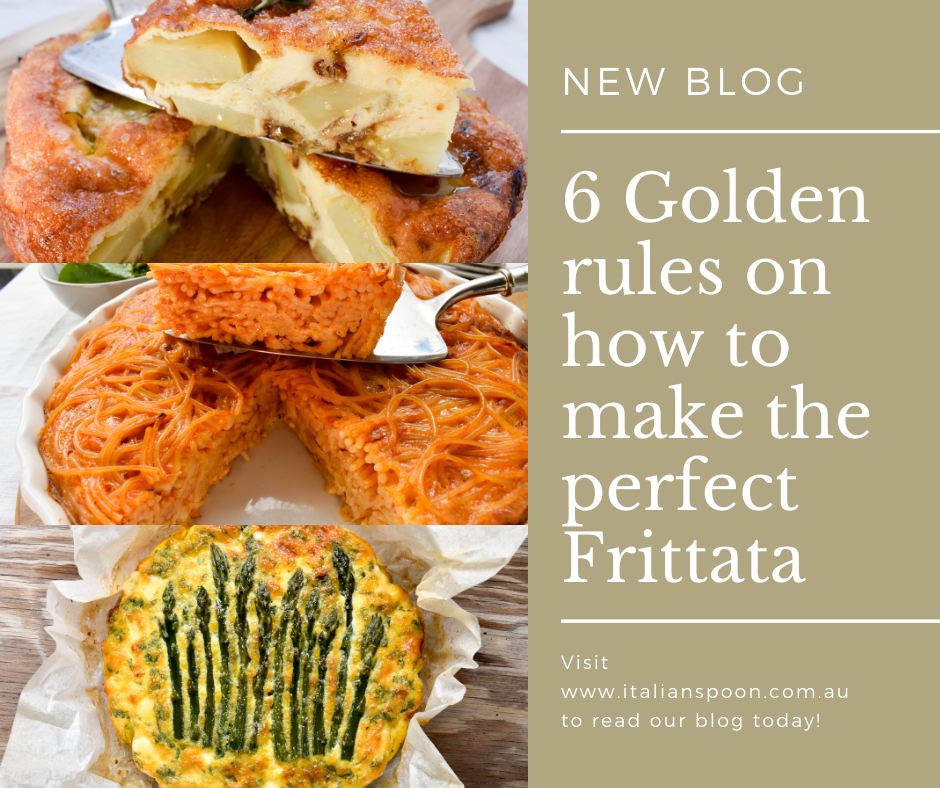 Massimo Bottura says "Take the best of the ingredients from every stage of its lifespan. That's what the real beauty is: to make something valuable out of something that might be seen as not having any value at all".  A well-made frittata does exactly that, make something delicious from a few simple ingredients.
In Italian cuisine, there is an unspoken rule that nothing should ever go to waste. Growing up, my parents and grandparents were very careful to use up all left over food whether it be pasta or vegetables – they would not throw anything away. There was also an abundance of eggs, an affordable and nutritious protein source. These are the perfect ingredients to make Frittata. Frittata means 'fried' in Italian and is an egg-based dish and an Italian version of an omelette. It is an inexpensive meal, easy to make and perfect to transform leftovers into a fabulous breakfast, lunch or light dinner served best with a salad. Whether you choose to cook your frittata completely on the stovetop, oven-baked or started in the frying pan and transferred to the oven to complete cooking, the results are always fantastic.




Here are 6 golden rules to make the perfect frittata:
1. Precook the filling
The saying goes we first eat with our eyes so where possible, use colourful vegetables. The perfect frittata starts with precooking your filling. This is the reason why using leftover cooked pasta or vegetables is perfect – there is no precooking required. If you are not using leftovers, precook any onions, potatoes or other vegetables for your filling ideally until it is almost cooked through. Remember to drain vegetables that absorb a lot of water well such as spinach. Mix it up and use seasonal vegetables to create different frittata flavours throughout the year.
2. Choose the right size baking dish or frying pan
In order to determine the right size of the baking dish or frying pan, you must first take into account the number of eggs you will be using. As a guide, I find that for 6 eggs (plus vegetables), a 24cm round baking dish or frying pan is the perfect size to create the right thickness. For an 8 egg frittata, you could use a 30cm pan/dish and for 4 eggs, use a 16 cm pan/dish.
3. Lightly whisk your eggs with flavoursome cheese and herbs
Use a fork to lightly beat the eggs, then season well with salt and pepper to taste. If you under season the frittata, it really shows in the results. That's right, adding salt to the surface at the end will not penetrate the rest of the frittata and the flavour will be a little bland. Add Parmigiano Reggiano for flavour, possibly a dash of cream and herbs to your liking.
4. Arrange the filling and pour over the egg mixture
Arrange the vegetable filling evenly on the base of a well buttered frying pan or baking dish. You then scatter cheese such as mozzarella, fontina or ricotta to provide tiny pockets of cheesy goodness. Pour the egg mixture evenly over the vegetable and cheese filling.
5. Cooking the frittata – to turn or not to turn, this is the question
The perfect frittata must be just cooked through to maintain a moist texture. It can be cooked entirely on the stovetop, known as the flipped method. There are also two methods for a non-flipped frittata which involve starting the cooking process in the frying pan and transferring to the oven to complete cooking or cooking it entirely in the oven.
Non-flipped frittata




I generally don't flip my frittata. I like to make a deeper dish frittata so after pouring the egg mixture over the filling, I bake the entire frittata in the oven until golden. If you are cooking your frittata in the oven, you will need to bake your frittata in a preheated 180°C conventional oven for approximately 25 minutes (for a 24cm baking dish).
Alternatively, you could start cooking the frittata on the stovetop and transfer to the oven to complete cooking.
Flipped frittata
If you are cooking an 8 egg Frittata solely on the stovetop using the traditional flipped method, you need to cook it over low to medium heat for about 8 minutes. You then cover the frying pan with a large plate (or flat pot lid) and flip the Fritatta onto the plate (or pot lid). You may wish to do this over the sink in case there are any liquids in the frying pan. Then slide the frittata from the plate back into the frying pan and cook for a further 8 minutes or until cooked through.
6. Serving the perfect frittata
Frittata is delicious warm and even tastier served at room temperature or cold. A fresh salad is the perfect accompaniment to frittata. Fritatta also makes a great addition to a rustic antipasto platter. Try cooking frittata to bring to bring to your next picnic or family gathering. Many would say that there is no frittata without bread (my husband included). There is no denying that eggs and bread go hand in hand.
Here are my top 6 frittata recipes to get you started: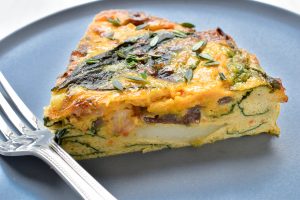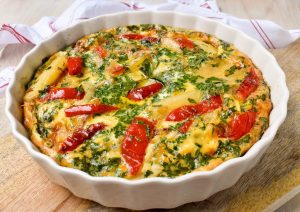 5.Creamed pumpkin, potato and baby spinach frittata
6. Red Pepper and potato frittata
I hope these recipes will inspire you to create your own frittata flavour creation. I am sure that you have plenty of imagination when it comes to frittata flavours however here are some great combinations for inspiration:
Broccoli and Italian pork and fennel sausage
Spinach, ricotta and potatoes
Zucchini (courgette), potatoes and zucchini flowers
Silverbeet (swiss chard) and potatoes
Jerusalem artichokes, leeks and potatoes
X Happy cooking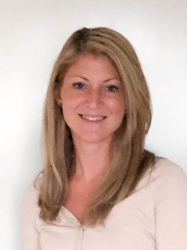 What is second best thing to being in beautiful Italy? Cooking and writing about Italian food, of course!

I live in Melbourne, Australia with my husband Simone and two children. They are my first love! Italian Spoon brings my second love for cooking Italian food and blogging to life and I am loving it!

I hope to inspire you to continue the tradition of Italian home cooking. Buon appetito!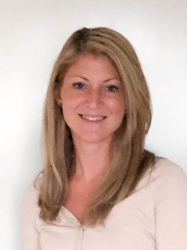 Latest posts by Vanessa Bottaro (see all)