Crostoli: how to make it & more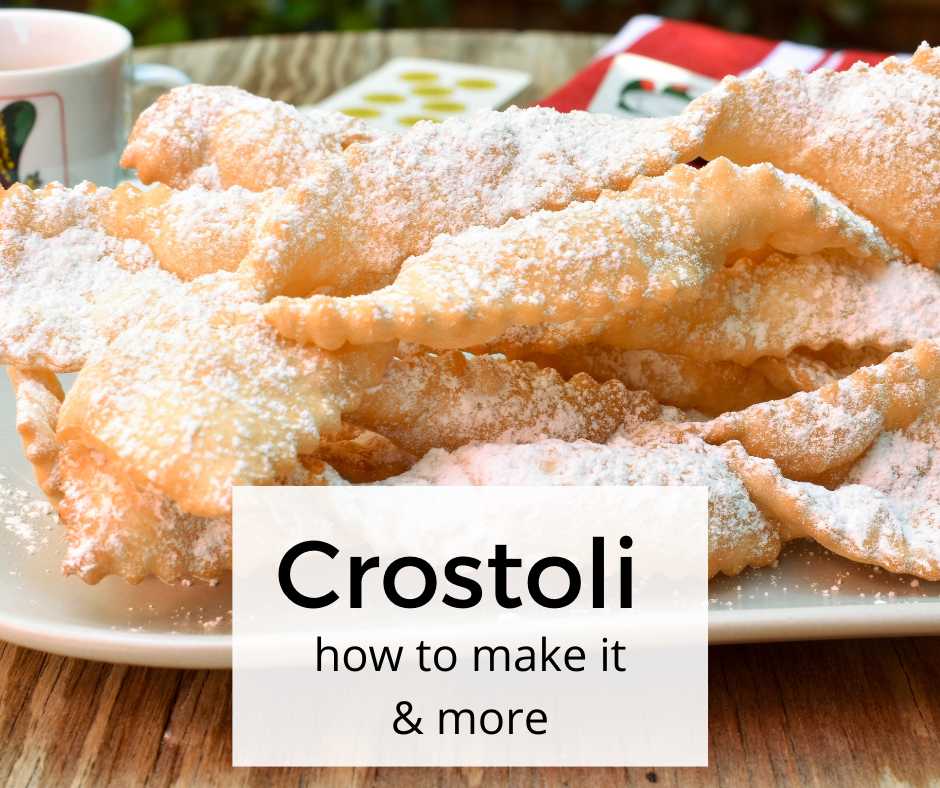 Crostoli are ribbons of fried sweet pastry dough that have been deep fried and dusted with icing sugar (powdered sugar). They are one of the most traditional sweet treats of Carnevale in Italy. Carnevale is one of Italy's biggest winter festivals. The word Carnevale comes from two Latin words 'carne' (meaning meat) and 'vale' (meaning goodbye). It is celebrated before lent and a farewell to excess. Just like everything in Italy, there are unique Carnivale traditions from north to south. The Carnevale celebrations took place from 7 February to the 16 February 2021 with a live streaming of the festival due to the pandemic. It is not too late to get a little piece of Carnevale celebrations and brighten your day by cooking Crostoli.
Crostoli, like many other dishes, have different names from region to region. They are as known as Frappe (meaning fringes) in Rome, Bugie (meaning lies) in Piedmont, Crostoli or Galani in Veneto, Cenci in Tuscany and Chiacchiere di Carnevale (meaning chatter of Carnevale due to the crunch). The ingredients vary slightly from region to region, as do the shapes. Whatever you choose to call them, making crostoli at home with the all-important crunchy bubbles is easy. Here are 6 tips to make great crostoli every time:
Tip #1: Alcohol is essential in the crostoli dough
Every region of Italy uses a different liqueur which is essential to help the crostoli to swell as they fry. My favourite liqueur in crostoli is grappa for a fragrant dough however Strega, Rum or Cointreau are also great choices.
Tip #2: Super thin crostoli dough
Use a pasta machine to make the crostoli dough as thin as possible. If you don't have a pasta machine, you can buy one from Amazon:
-Marcato 4-Piece Atlas 150 Multi Pasta Machine Set- Besides making the most amazing crostoli you can make your own lasagne sheets, spaghetti, fettucine and ravioli as the set includes Ravioli and Spaghetti attachments – bonus.
–Mercato 8341 Atlas 180 (Made in Italy) Pasta Machine – the original machine for rolling and cutting pasta dough and perfect for making traditional lasagna, fettuccine, and crostoli of course at home.
Buy from Amazon US or from Amazon Australia.
-If you are like me and in love with your Kitchen Aid stand mixer, you'll want to treat yourself to KitchenAid KSMPRA Pasta Roller & Cutter Attachment Set, a must have accessory.  It fits all Household KitchenAid Stand Mixers. The Pasta Roller rolls 6-inch sheets of pasta with 8 thickness settings for fabulous lasagne sheets and includes a Spaghetti and Fettuccine Cutter to make not only the most amazing pasta but crostoli as well!
Buy from Amazon US or from Amazon Australia.
Just a heads up that we are a participant in the Amazon Services LLC Associates Program, an affiliate advertising program designed to provide a means for us to earn fees by linking to Amazon.com and affiliated sites.
Tip #3: Have fun and get creative with crostoli shapes
Crostoli are traditionally shaped in rectangles, with or without cuts in the middle. Nonna may not approve of this but have fun with it and get creative with the shapes!
Tip #4: Maintain the correct temperature of the cooking oil
Use of a thermometer is important and the temperature should be monitored throughout cooking. If the oil is too cool, the frying time lengthens, leading to more oil being absorbed in the crostoli. This not only adds fat and calories, but makes the crostoli soggy and greasy. If the oil is too hot, the outside of the crostoli will be too golden which impacts the flavour. The oil must be hot but not too hot to cook the perfect crostoli. The right cooking temperature should be between 170-180°C (175°C is the perfect balance).
Tip #5: Drain the crostoli
Once cooked, drain the crostoli on absorbent paper, to remove excess grease.
Tip #6: Don't cover the crostoli
Whatever you do, do not cover the freshly fried crostoli as the steam will make them soft.
Crostoli (Chiacchiere) di Carnevale
It is now time for the recipe of these light and crispy delicious biscuits. Crostoli really are the perfect recipe to go with an Italian coffee – they will have you asking for more!
Serves: 4
Time: 30 minutes (plus 30 minutes resting time)
Ingredients:
300g 00 flour, plus extra to roll dough through pasta machine – refer to note in step 2
40g unsalted butter, roughly chopped
40g castor sugar (superfine granulated)
2 eggs
30g grappa liquor (alternatively you can use Strega, Rum or Cointreau liquor)
1 sachet (0.5g) Italian vanillina (vanilla sugar) – optional
Zest of 1 lemon
Icing sugar (confectioners' sugar), for dusting
1L sunflower oil, for frying
1 pinch sea salt
Requires: pasta machine (alternatively use rolling pin)
Method:
Step 1: Place the flour and a pinch of salt in a large mixing bowl. Add the butter and use your fingertips to rub the butter into flour until the mixture resembles fine breadcrumbs. Stir in the sugar.
Note: 00 is a powder-fine Italian type of flour. It is made from soft wheat varieties, and is frequently used in Italian desserts and pastas. 00 flour is available in most supermarkets, Italian food stores and gourmet delicatessens.
Step 2: Make a well in the centre of the flour mixture. Place the eggs, grappa (or other liquor), vanillina (optional), and lemon zest into the well. Use a fork to lightly whisk the eggs with the other ingredients in the well. Use the fork to gradually blend a little of the flour into the egg mixture until a dough starts to form. Turn dough onto a lightly floured surface. Knead for a few minutes until a smooth, soft dough forms. Place the Crostoli (Chiacchiere) dough into a bowl, cover with a tea towel and set aside for minimum 30 minutes to rest at room temperature.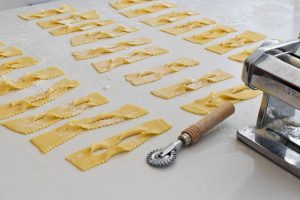 Step 3: To achieve a consistent thickness, I recommend the use of a pasta machine to roll the Crostoli (Chiacchiere) dough – alternatively use a rolling pin. Attach the pasta machine to the side of a clean workbench.
Step 4: Divide the Crostoli (Chiacchiere) dough into 3 portions. Remove 1 portion of the dough, then cover the remaining portions. Use the palm of your hand to flatten the dough into a rough rectangle shape and sprinkle over flour. Dust the rollers with flour. Feed the dough through the pasta machine rollers on the widest setting. Feed through the pasta machine several times, folding each time to laminate. Reduce the setting on the pasta machine by 1 and feed the dough through the pasta machine. Repeat, adjusting the setting on the pasta machine each time you feed the dough through the machine until it reaches the second thinnest setting. Lay out the sheet of Crostoli dough onto a lightly floured work surface. Repeat with the remaining portions of dough.
Step 5: To make the Crostoli (Chiacchiere) di Carnevale, use a pastry wheel to cut the sheets of dough into 4cm wise strips. I like to use a pastry wheel to cut a slit lengthways along the centre of each strip and then loop one end of the strip through the slit. As stated above, you can also get creative with the shapes! Repeat with the remaining dough.
Step 6: Heat the sunflower oil in a medium-sized saucepan over medium heat to reach a temperature of 175°C (when the oil is ready, a pinch of breadcrumbs sizzle when dropped in the saucepan). Cook the Crostoli (Chiacchiere), in batches, turning occasionally for 1-2 minutes or until golden and crisp. Remove with a slotted spoon and transfer to a baking tray lined with paper towel to drain excess oil. Allow to cool completely. Add the finishing touch by lightly coating the Crostoli (Chiacchiere) di Carnevale in icing sugar (confectioners' sugar) before serving.
X Happy cooking and buon appetito!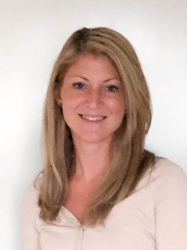 What is second best thing to being in beautiful Italy? Cooking and writing about Italian food, of course!

I live in Melbourne, Australia with my husband Simone and two children. They are my first love! Italian Spoon brings my second love for cooking Italian food and blogging to life and I am loving it!

I hope to inspire you to continue the tradition of Italian home cooking. Buon appetito!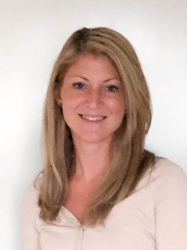 Latest posts by Vanessa Bottaro (see all)