How to eat well for less this new financial year. 7 Days of eating on a budget!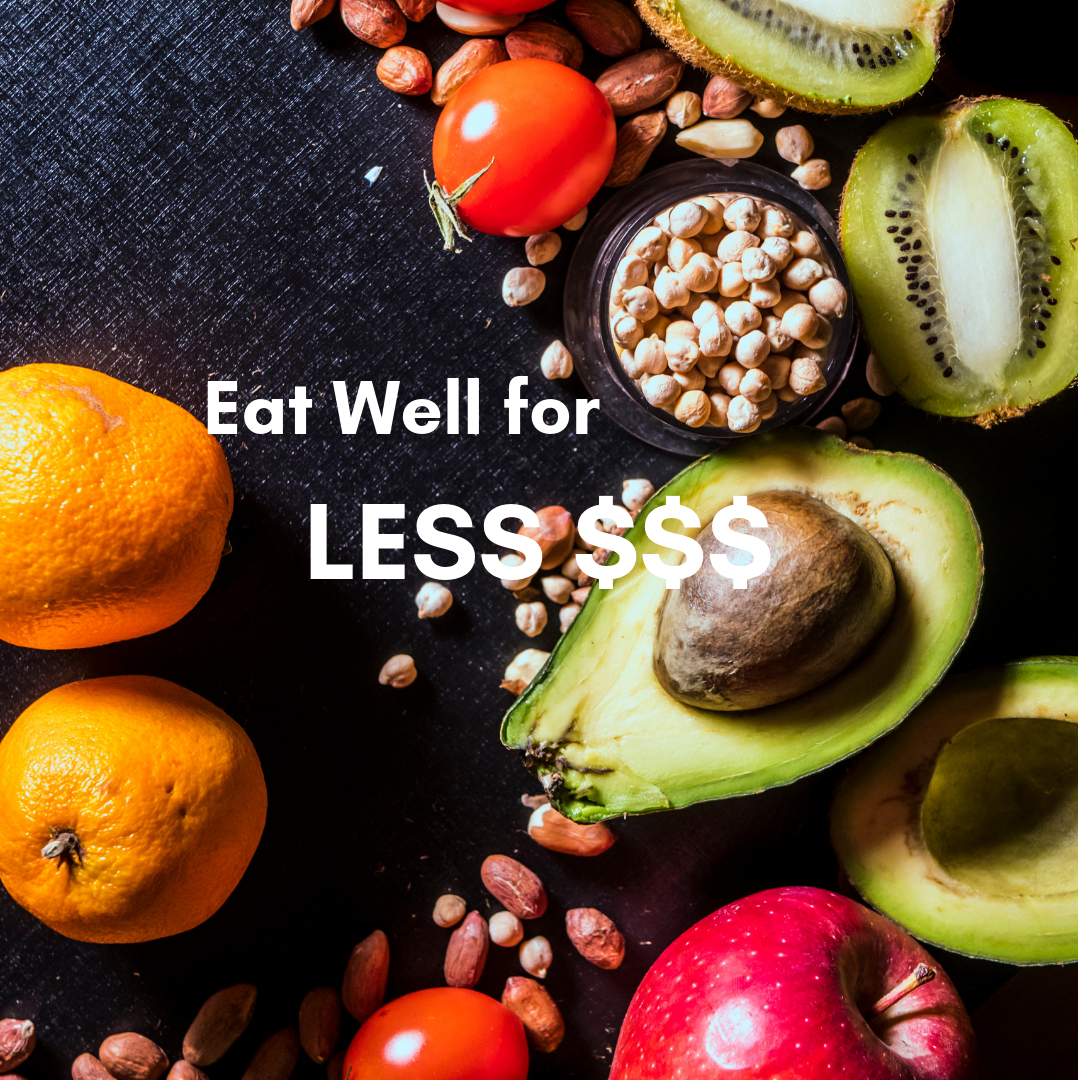 Happy new financial year!
The 2019/2020 financial year has started and it's time to make a new financial year resolution to save more and spend less.
Did you know that when it comes to food and grocery shopping, Australians are some of the biggest spenders in the world? This is partly because we pay some of the most expensive prices in the world for food. We also contribute in the amount of food we buy, with many households buying much more than they actually need for the week.
Here are my top tips to eat well and save less this new financial year. We will also reveal our 7 day eating plan on a budget!
1. Start with a budget
Let's face it, most of us spend money without knowing where it is all going. Our intentions are to spend less but do we have an actual budget to work toward? Sorry to say but throwing food and household items in the shopping trolley and hoping for the best is not a good plan to save money.
A budget can help you to map out your finances. Start with the big expenses like rent or mortgage, then add an average of essential costs like bills, transport, or debts you're paying off. How much is left? Work out what budget you can allocate to food and the supermarket shop for the week. It would be nice to have money left over to invest money in your future money goals if possible. If not, the important thing is to have a good plan and commitment to spend less than you make.
2. Buy seasonal produce
One of the secrets to spending less is buying food that is in season. In Australia as other parts of the world, it's often difficult to know what produce is in season. This is because most of our fruit and vegetables are available all year round. The payoff for selecting seasonal produce is that it is not only cheaper to buy, but it also tastes better and adds more variety of ingredients for you to cook with at different times of the year.
3. Menu planning and how to save at the check out
One of the biggest ways to save money on groceries is to buy only what you need and use up the food that you buy. To do this, it is important to check your fridge and pantry each week before planning what to eat. This is so that you plan meals around what you have left, which saves you money and reduces waste.
Meal planning allows you to plan your weekly meals with a shopping list of required ingredients. There are so many benefits to meal planning and it can all be done on the Italian Spoon website. 'My Meal Plan' is free and available exclusively to Italian Spoon members. It allows you to save money on groceries providing that you don't make impulse buys and actually stick to the shopping list, that is.
I have also found that buying home brand products when money is tight to be a huge help. There are some home brand products that I continue to buy, as have found them to be good quality at a significantly lower cost.
4. Save with home cooked meals
Ordering takeaway and food to be delivered (with apps like Uber Eats) rather than cooking at home is one sure way to blow the budget. Of course, there are ways to eat well for less this new financial year and it goes beyond deleting your Uber Eats account.
I'm talking about buying the best quality groceries that you can afford on your budget. Once you have the ingredients for your meals which are saved in 'My Meal Plan' you will not only save money but precious time wondering 'What's for dinner?' Cooking your own meals is also better for your health. Now that's what I call eating well for less!
5. Eat a Vegetarian meal at least once a week
Italian cuisine is filled with recipes without any meat or fish. I can guarantee that avoiding meat doesn't mean sacrificing taste. One tip is to introduce one or a few vegetarian meals during the week to save money. There are so many tasty pasta dishes and main meals you can make using beans and plant-based ingredients at a reduced cost. What's more, your whole family will love them!
6. Cook more food and save time
What could be more satisfying than cooking home-made food? Having home-made food for leftovers of course. It's a good idea to cook double the required portion and use the leftovers for lunch or dinner the following day. This not only saves you money, but time to prepare.
I have learnt how to create meals on a budget that are delicious and very fulfilling. Here is our 7 day budget friendly eating plan including our favourite meals (some of which cost under $10) to get you started. Read these recipes and add them to your favourites or My Meal Plan for free on the Italian Spoon website today.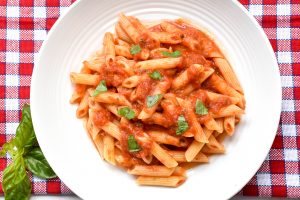 Monday: Penne pasta 'al pomodoro' (with Italian tomato sauce)
This is a tasty dish. It can be enjoyed all-year round and considered a children's favourite. In summer, purchase ripe and flavoursome Roma tomatoes. Alternatively, use San Marzano canned tomatoes for the colder months when tomatoes are not in season. In summer, basil is in season and is widely available – you should also try growing your own. I freeze my home-grown basil at the end of the season, so I have basil for pastas all year round at no additional cost.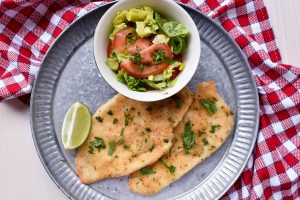 Tuesday: Oven baked chicken 'cotoletta' (schnitzel)
I could not get enough of this dish growing up. Cotolette (schnitzel) were on the menu at least twice a week at my house. You will also enjoy leftovers in a roll for work or school lunches.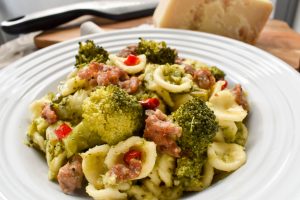 Wednesday: Orecchiette pasta with broccoli, Italian pork sausage and chilli
Our recipe for Orecchiette and broccoli pasta uses only a handful of ingredients including Italian pork sausage and chilli which make an easy and super tasty dish. It is a family favourite, one you will cook again and again.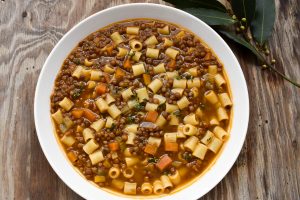 Thursday: Lentil soup
This dish is not only a cost effective but nutritious and tasty meal. You'll need approximately 1 hour for this recipe.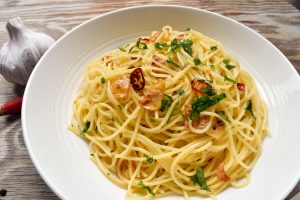 Friday: Spaghetti 'aglio, olio e peperoncino' (with garlic, olive oil and chilli)
Spaghetti pasta, garlic, olive oil and fresh chilli. This dish is very easy and cheap to make, in fact every Italian has the ingredients needed to make this dish in their very own pantry.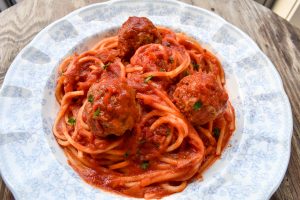 Saturday: Spaghetti pasta with meatballs
A comfort food and budget-friendly meal that you and your whole family will love!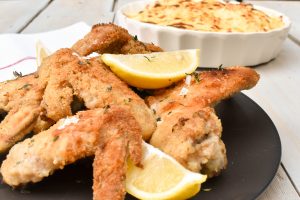 Sunday: Italian-style crumbed chicken wings and a side of Cauliflower bake with creamy besciamella sauce
Try this recipe when you feel like fast food but are looking for a healthy alternative. The whole family will love them!
We hope you love our tips for eating on a budget. Our next blog will be about why food waste matters with 5 tips to reduce food waste at home. It will be published on the 26 July 2019.
Happy cooking until then.
Italian Spoon X
How to eat well for less this new financial year – 7 Days of eating on a budget Blog authored by Vanessa Bottaro.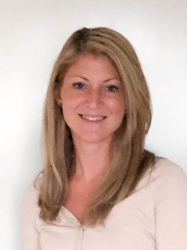 The only thing better than being in beautiful Italy is cooking and writing about Italian food!

I live in Melbourne, Australia with my husband Simone and two children. They are my first love! Italian Spoon brings my second love for cooking Italian food and blogging to life and I am loving it!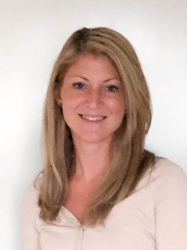 Latest posts by Vanessa Bottaro (see all)