Healthy Minestrone soup: 10 tips to make Minestrone perfectly every time!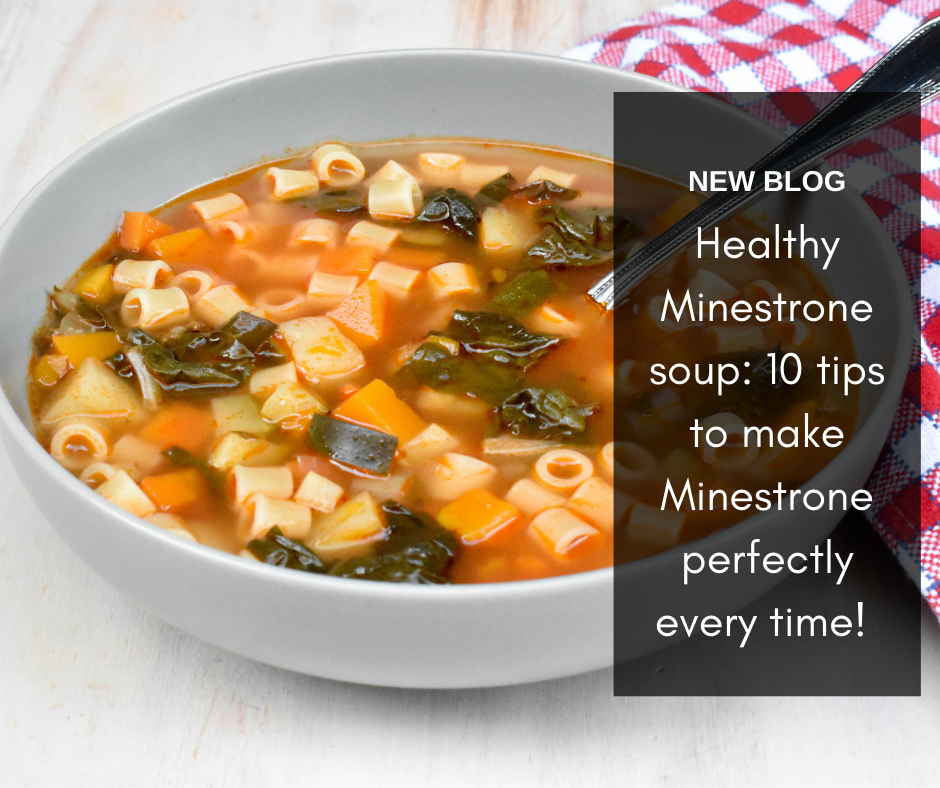 Minestrone, in Italian means 'big soup'. There are so many different recipes for Minestrone soup however everyone agrees that you can never get tired of a well-made minestrone. There are recipes with the addition of pasta or eaten on its own, with legumes or without, flavoured with herbs or not, topped with a drizzle of oil, served with crusty bread or without. Minestrone soup is the ideal dish after a few days of indulgence or during times when you're trying to eat light but 'con gusto' (with taste). It is my comfort food when I want a warm but light meal – (my 'go to' meal for Sundays or Mondays after indulging a little too much).




The benefits of eating vegetables
Currently, the median age of the Italian population ranks in the top 5 oldest worldwide. The question is – why do Italians live a longer life? An important factor includes healthy eating habits of the Mediterranean diet. Italians have a high consumption of fruits and vegetables in their diet. The recommended fruit and vegetable intake is at least 400 grams per day, ideally five servings of 80 grams. Many Australians and people from other countries of the world are not eating enough fruit and vegetables. While cooking can result in the loss of certain nutrients, cooked vegetables are still a very good. Now here is the fun part of 10 tips to make the perfect Minestrone soup every time…
10 tips to make Healthy Minestrone soup perfectly every time
Tip #1 Cut the vegetables into small cubes
I usually start by preparing the vegetables for the 'soffritto'. Soffritto means 'slightly-fried' in Italian, and is a sautéed base flavouring of onions, carrots and celery which are cooked until they release their flavour. I usually start by using a vegetable peeler to peel the carrots and the strings of the celery. I then cut the carrot and celery into small cubes slightly smaller than 1cm. Finely chop half of a large onion. I then cut the remaining vegetables such as zucchini, pumpkin, green beans and stalks of silver beet again into small cubes slightly smaller than 1cm. Slice the silver beet leaves (also known as swiss chard). The only vegetables that should be cut larger into approximately 1.5cm cubes, are the peeled potatoes. This is because they cook quicker and would be mush if chopped the same size. Alternatively, you could also chop the potatoes the same size, then add to the stockpot 15 minutes later than the other vegetables.
Tip #2 Use a heavy stock pot
Use a heavy stock pot which allows for even heat distribution and the flavour of the vegetables to deepen without overcooking them. I recommend cooking Minestrone in a 30cm large LE CREUSET Cast Iron Signature Round Casserole pot. It allows me to make a serving of 8 – it is a 'big soup' after all. Long recognised for its strength and durability, cast iron is great for cooking Minestrone thanks to its ability to maintain even and consistent heat. The 30cm pot allows me to make two meals in one – just what our busy family needs! Alternatively, use a smaller pot if preparing one meal only. Check out Le Creuset 30cm Cast Iron pots on Amazon.

Amazon (US)
Amazon (Australia)
Tip #3 Make the 'soffritto':
In Italian cuisine, 'soffritto' is the foundation of many soups. To make the soffritto, heat olive oil in a heavy-based stockpot over medium heat. Add the chopped onion and cook for a few minutes, then add the chopped carrot and celery and cook for a few minutes until softened.
Tip #4 Add the vegetables and my secret ingredient
Now it's time to add your carefully cut vegetables all at once and the secret ingredient. What's the secret ingredient? Two bay leaves, of course. I am in love with using fresh bay leaves in minestrone and other recipes that call for bay leaf. After all, my Dad has a massive bay tree – someone has to make use of the leaves. If fresh bay leaves are not available to you, dried bay leaves can also be used which will add a more subtle flavour to the soup. Could you make minestrone soup without bay leaves? Sure, but would you miss it if it wasn't there? Absolutely!
Tip #5 Add tomato paste for richness
Now it is time to add the tomato paste, also known as tomato purée or concentrate. Tomato paste is mostly sold in small cans. It is used to add richness to dishes such as soups and stews. One tip to get more intense flavour in the minestrone is to add the tomato paste together with aromatic ingredients before adding liquid ingredients. This allows the tomato paste to caramelise and allow full flavour to develop. As an alternative, you could add canned, chopped tomatoes which will create a more rustic flavoured Minestrone.
Tip #6 Add water
Fortunately, with Minestrone there is no need to pre-make your own stock. Given the number of vegetables and herbs added to the dish, you need to only add cold water to create a delicious broth. That's right, no vegetable stock is required – just water.
Tip #7 Allow to cook – set the timer for 45 minutes
As soon as you have added water, set your timer to cook the Minestrone for 45 minutes. Bring the Minestrone to the boil over medium heat. Reduce heat to low and simmer, covered, until the vegetables are tender. Meanwhile, stir and check the Minestrone soup occasionally. If the soup is looking too thick, then add additional water.
Tip #8 Season with sea salt
I like to add sea salt to Minestrone, but only season the soup after the 45 minutes cooking process to allow the minestrone time to develop its full flavour. I start by adding a little salt, then taste it, then add more salt and continue to add until the seasoning is just right.
Tip: Always add salt a little at a time to avoid overdoing it.
Tip #9 Add the pasta
After seasoning the Minestrone, it is time to add the pasta. Add 'Ditali' or your preferred pasta shape, referring to the cooking time specified in pasta packet instructions.
Tip #10 Adding the finishing touches before serving
Ladle hot Minestrone soup among serving bowls. The finishing touch when it comes to Minestrone is a drizzle of extra virgin olive oil and grated Parmigiano Reggiano – simply buonissimo! Also no matter whether using fresh or dried bay leaves, discard the whole bay leaves before serving. By now the bay leaf has well and truly done its job.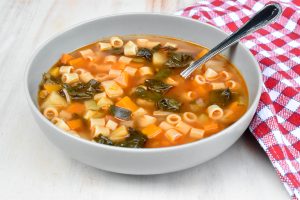 Click Healthy Minestrone Soup for the full recipe.
Just a heads up that we are a participant in the Amazon Services LLC Associates Program, an affiliate advertising program designed to provide a means for us to earn fees by linking to Amazon.com and affiliated sites.
Happy Cooking!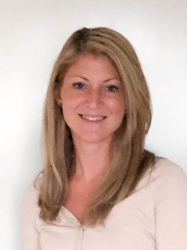 What is second best thing to being in beautiful Italy? Cooking and writing about Italian food, of course!

I live in Melbourne, Australia with my husband Simone and two children. They are my first love! Italian Spoon brings my second love for cooking Italian food and blogging to life and I am loving it!

I hope to inspire you to continue the tradition of Italian home cooking. Buon appetito!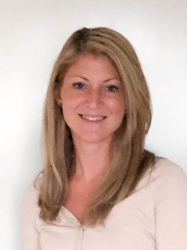 Latest posts by Vanessa Bottaro (see all)