8 Bucket list foodie things to do in Italy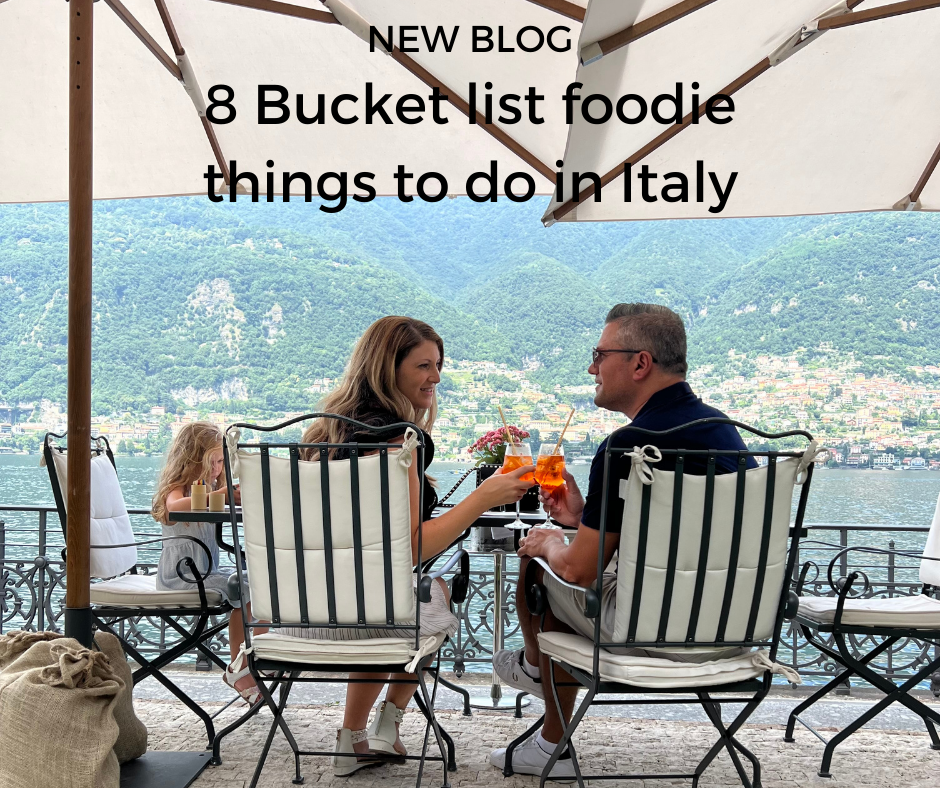 We have been in Italy for 45 days now and lost count of the number of culinary experiences we have had. I'll admit that apart from visiting family members (which we missed dearly for 3 years) and the beach (our happy place), we have built our vacation itinerary on Italian food! The food scene in Italy is hard to beat – quality ingredients, great restaurants and cafes. I also love the street markets which have an abundance of seasonal vegetable and fruit produce spilling onto the footpath. Driving around the streets of Italy, you will even find trucks parked on the side of the road selling fresh produce that has been locally grown. Read our blog and discover 8 foodie things to do in Italy which should be on everyone's bucket list.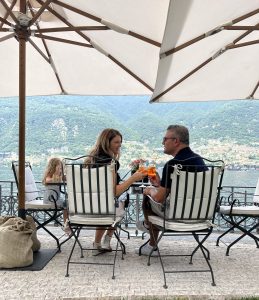 #1 Get in the spirit of aperitivo in Milano (and Lake Como)
Aperitivo is consumed prior to a meal with the intention to stimulate the appetite. It originated in Milan (and no one does aperitivo better), though aperativo is now common all around Italy. We loved our beautiful aperativo @Mandarin Oriental Lago di Como. Traditionally, aperitivo consists of a cocktail or other alcoholic/ non-alcoholic beverage and is often served with appetizers. My favourite would have to be Aperol Spritz, which is also the Italian cocktail of choice. The aperativo varies greatly depending on the place. Some serve a small plate of snacks while others offer filling finger food that is so satisfying that you need to skip dinner for the evening. Aperitivo is a way to wind down from the day and gather with friends. There are restaurants, pastry shops and bars that serve aperitivo at any time of the day however for the most part, it goes from around 6pm until 9pm. One thing is for sure, it was very easy for me to get in the spirit of aperitivo and so should you.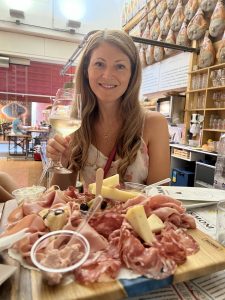 #2 Experience Salumi e Formaggi (meaning "cured meats and cheese") in Bologna
The quality of salumi e formaggi all around Italy is great. In Bologna; the salumi (cured meats) including but not limited to Mortadella, Prosciutto and Salami are on another level. The locally made cheeses are also fantastic. You can see the love that goes into creating products and preservation of traditions created over the decades. I can guarantee that anything you try is sensational. There are also enough restaurants, food events, culinary tastings and food tours in Bologna to ensure it lives up to its nickname of La Grassa, La Rossa, e La Dotta (meaning "the Fat, the Red, and the Learned").
#3 Eat Pizza in Napoli
Whether you are a pizza lover or not, no one makes pizza like they do in Napoli and surrounds. It is afterall, the birthplace of Pizza Margherita. You will experience the perfect pizza base and crust which is rolled to the right thickness to make it light and crisp but hold the toppings. It has a vibrant red sauce with good ratio of tomato and mozzarella or toppings in general. Lastly, the real pizza is baked in a wood-fire oven (heated to 400°C) until the crust is toasty and the toppings bubbling. What a work of art!
#4 Visit food markets and take a cooking class in Florence
Designed by the same architect as the Galleria Vittorio Emanuele II in Milan, the Mercato Centrale market in Florence has two floors with a cool architectural style, great atmosphere and fabulous produce for sale. From freshly baked artisan breads, fresh pasta, quality meats and endless varieties of cheeses to vegetables, pastry shops and sandwiches; you are spoilt for choice. There is also a restaurant, pizzeria, brewery, bookshop and cooking school.
The Mercato Sant'Ambrogio is another market designed by the same architect. It sells food and other items and is the market of choice for many Florentines, both for the quality of produce and for the great atmosphere. Inside, the stalls sell varieties of fresh meat, fish, cheese and cured meats. Outside you'll find more fruit and vegetable sellers and other stalls that offer all kinds of household goods, vintage clothing and more.
Once you have seen the beautiful produce, take a cooking class in Florence – some classes have a tour of the markets to buy the produce included. The best part is eating what you have prepared!
#5 Enjoy citrus delights on the Amalfi coast
When life in Italy gives you lemons, make limoncello. There are no lemons like the bright yellow citrus fruit of the Amalfi coast. Yes, I am talking about the best lemons in the world which seem to grow everywhere under the sun along the Amalfi coast which stretches across 50km of the most beautiful looking coastline in southern Italy. Take the time to experience limoncello after lunch as a digestivo (meaning "digestive") made from the skin of these wonderful lemons – it is the perfect ending to an Italian meal.
Another must try is Delizie al limone featuring the scent of Amalfi lemons and delicate taste of limoncello cream.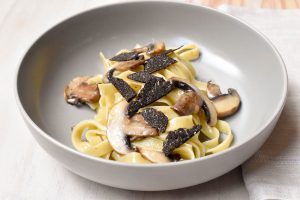 #6 Go truffle hunting (and eat Pasta with truffle)
Black or white with a marbled interior, truffle is rare, aromatic and enhances every dish it touches. Truffles are the most prestigious type of fungus and precious fruit of the forest. The soil characteristics need to be just right, that is free-draining soil with a high pH (7.5 -8.3) among the roots of trees (including but not limited to oak, chestnut or hazelnuts). It takes anywhere from 6 to 10 years to produce commercial quantities of Truffle. It is also a hidden underground treasure that requires the nose of dogs trained to recognize its characteristic smell to harvest it. Pigs are apparently more efficient at spotting truffle however given they also love to eat truffles, are not a popular choice when it comes time to harvest. While mushrooms can be grown and served raw, sauteed, baked or grilled, Truffle is the kind of ingredient where less is more in terms of effort and other ingredients to serve it with. It shines with the simplest preparation and only requires a few grams per plate to provide aroma and flavour.
The regions to go truffle hunting include Piedmont, Tuscany, Umbria and Marche. Truffle hunting in Italy is an experience for foodies not to be missed. Winter white truffles are found between October and early January, while the summer white truffle season begins in mid-January and lasts until late April. Black truffles also have a winter and summer season. Winter black truffle season runs from November to March, and the summer season is between May and September. If you can attend, Alba hosts a world-famous annual white truffle festival from late October through to late November which is a great experience. Check the region that you will be visiting in Italy for more information about the truffle season.
Even if you live in Australia and are not planning a trip to Italy anytime soon, you can still enjoy this prestigious ingredient. The Australian truffle season runs from June to September so go and buy some, get out your Truffle slicer out and cook Italian Spoon's recipe for Truffle pasta or Truffle mushroom pasta.
Sicily offers great street food at reasonable prices. What adds to the splendour is the history and influences by many nationalities who once ruled Sicily – Greeks, Arabs and the Spanish to name a few. We particularly enjoy the street food in Ortigia, a small island which was historically the centre of the city of Siracusa, Sicily (also known as 'Città Vecchia' (Old City). Here you will find delicious street food vendors, bars and restaurants everywhere, day and night, offering all sorts of foods – savoury and sweet. So that leaves the question – what are the top Sicilian dishes that you must try when you visit? I have come up with a list of foods. I can guarantee that your trip will not be complete without them.
Arancine (al ragu` or with whichever flavours you like)
Rosticceria Siciliana – a large variety of baked and fried finger foods (my favourite is puff pastry filled with ham and cheese and arancine)
Panelle (chickpea flour fritters)
Schiacciate (pizza-like with fillings) – my favourite fillings are potato with pork sausage and broccoli with pork sausage
Cannoli alla Siciliana (Sicilian style cannoli)
Granita with brioche
#8 Eat a gelato (or 10)
Be sure to try more than one gelato when in Italy. Gelato (meaning "frozen" in Italian) is a frozen treat that originated in Tuscany during the 16th century. It was created by Bernado Buontalenti during the Renaissance period as a dessert for the Grand Duke Cosimo I de' Medici (Grand Duke of Tuscany). Made with fresh, all-natural ingredients, gelato is a healthier version of ice-cream. This is because gelato has much less butterfat (about two-thirds less) and it is churned slowly which creates less air whipped into the product. This creates a denser and more flavourful final product to coat your tongue compared to ice-cream.
Fresh fruit sorbetto (meaning "sorbet") is also a refreshing frozen treat. It is dairy and egg free – also it contains the least fat of the 3 (compared to gelato and ice-cream).
We recommend Gelato dei Neri in Florence, Gelateria I Caruso in Rome and Il Massimo del Gelato in Milan.
Italians love their food and food is love. I hope you have been inspired by these 8 Bucket list foodie things to do in Italy. If you are a foodie like me, you will find that the more time you spend in Italy, the more foodie must-do things you will add to this list!
If you are looking to bring a piece of beautiful Italy to your dining table without the travel, we have got you covered. The Italian entertaining cookbook is a collection of 100 home-style Italian recipes and tips. It has been inspired by travels to Italy, my love for cooking delicious food and desire to share what I have learnt from the great Italian cooks in my life! If you haven't already got your hands on a copy, you can order the Paperback or Kindle version of THE ITALIAN ENTERTAINING COOKBOOK from Amazon. You'll definitely want to use the tips in the book for planning your next Italian feast, but you can put them to good use for meals the rest of the year as well.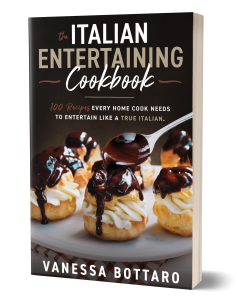 Amazon (Australia)
Amazon (US)
Amazon (UK)
Amazon (Canada)
Amazon (Italy)
Also available on Amazon.de, Amazon.fr, Amazon.es, Amazon.co.jp and Amazon.nl.
Buon appetito!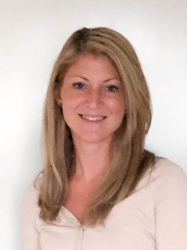 In my eyes, Italian cuisine is love on a plate.

Vanessa is Creative Director of the Italian Spoon website and Author of The Italian entertaining cookbook, a collection of home-style Italian recipes and tips for entertaining in true Italian-style. In addition to cooking and taking photographs, Vanessa writes the recipes and blogs to bring the love of Italian cooking to life! The collection of recipes and blogs on the website have been inspired by travels to Italy and desire to share what she has learnt from the great 'Mamma's and 'Nonna's in her life!

Vanessa is an entrepreneur and wife to husband Simone and the mother of two beautiful kids Dante and Mia. Even so she was born and lives in Melbourne Australia, Vanessa has a deep connection to Italy. Perhaps it is the food, or maybe it is because it is the place where Vanessa met the love of her life, Simone to whom she has been happily married for so many years.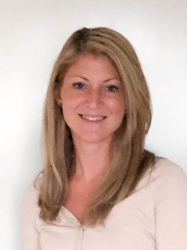 Latest posts by Vanessa Bottaro (see all)