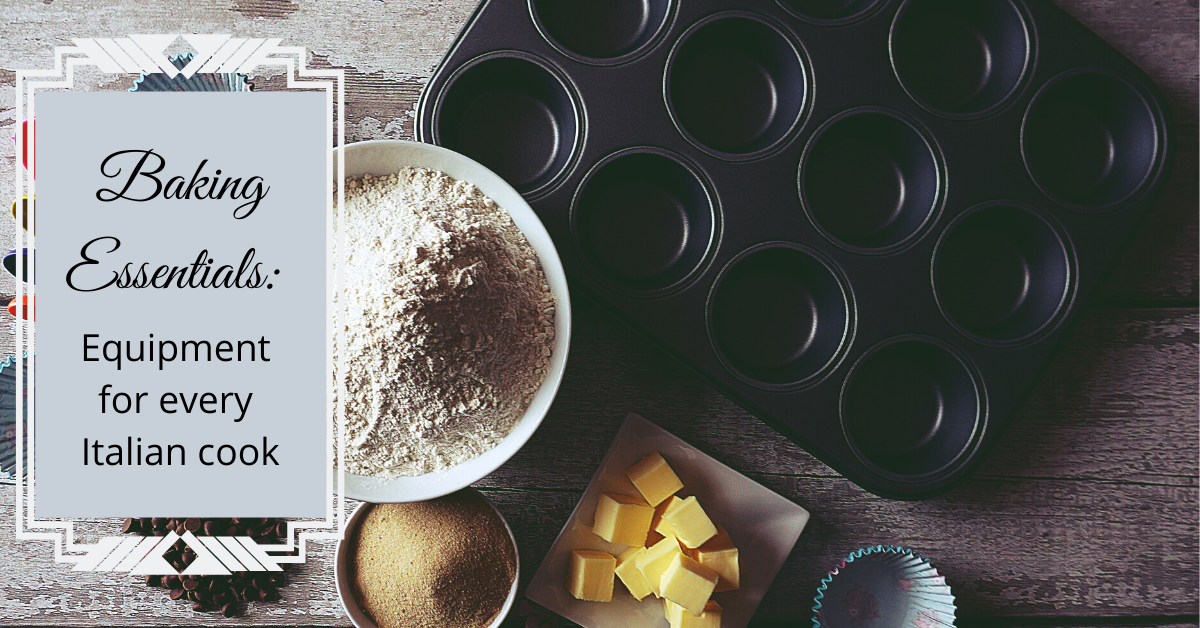 I have a confession to make – I love baking! ❤❤❤
Italian Spoon has a recipe to satisfy everyone's sweet tooth for breakfast, afternoon tea or dessert. If you have an Italian background, chances are that your Nonna (grandmother) used to make sweet Italian desserts for you growing up. Are you looking to maintain Nonna's tradition or start a new one? You don't need to have Nonna by your side to make perfect desserts. We reveal or favourite cake tins, baking trays, appliances and other baking essentials to make sweet delights from cookie recipes through to showstopping desserts. This post has links below to purchase products that we recommend from Amazon. My shopping experience with Amazon is always fantastic. I love buying products online at Amazon with fast shipping that see your new items on your doorstep in no time.
Just a heads up that we are a participant in the Amazon Services LLC Associates Program, an affiliate advertising program designed to provide a means for us to earn fees by linking to Amazon.com and affiliated sites.




Baking is definitely an art and I love it! Every artist requires the right tools to make a masterpiece and baking is no different. Here is a guide to our favourite and Must have Baking appliances.
Cake tins, Pans, Cookie sheets and other Must Haves❤
If you're anything like me, you like to bake until your heart is content. I can't stress enough that good cakes come to those who bake with the right cake pan! I always use aluminium metal baking pans. Why? They bake dishes evenly which is especially important for cakes. They are also very lightweight and durable. My preference is to use a lighter cake pan for cakes. This is because dark cake pans absorb more heat and therefore bake the cake more quickly and create a darker crust. I tend to mostly use round cake tins however different recipes call for different baking pan sizes so it is important that you have a variety. My tip is to, where possible, use the same size cake pan as recorded in the recipe. To determine a cake pan's dimensions, measure the inner edge of the pan. If a recipe requires a removeable base, that's what you need to use. For example, a loose-bottom cake pan is essential for making cheesecake.
Are you ready to step up your baking game? Here is our guide to baking Must Haves from Amazon. Which one will you buy?
1.Must have Round Cake Pans
2.Must have Square Baking Pans
3.Must have Muffin and Donut Pans
4. Must have Loaf Pans
5. Must have Springform Pan
6.Must have tart pan/pie plates
7.Baking Trays and Cookie Sheets
8.Ramekins
Essential Baking Accessories❤
It is time to think outside of the cake box and find the accessories you need for baking. I am talking about the baking tools that every home cook needs from beginner to the dessert queen. Here is our guide of baking must haves to set you up for success.
Your best chance of baking the perfect desserts starts with the right equipment. Other factors for your best chance at success with any dessert recipe are to carefully measure your ingredients. That means Nonna's method of 'quanto basta' (meaning just enough in Italian) is not going to cut it for a constantly perfect dessert every time. If you haven't already got one, invest in products to measure the correct portions of ingredients. Make sure you follow the recipe and use the correct oven temperature for baking desserts – it really matters! I prefer conventional cooking rather than fan-forced and keep an eye on cakes as they are getting close to the end of the suggested baking time.
Here you have the perfect Baking Essentials to create desserts for everyone's taste! Italian Spoon has traditional Italian desserts that inspire and now you can make them too!
Happy Cooking X